EGO 56V Cordless 21″ Select Cut Lawn Mower LM2156SP Review
By Ben Carmichael
EGO 56V Cordless Select Cut Mower LM2156SP
749.00
There are certain tools that make a chore a chore, there are those that make a chore endurable, and then there are those that make a chore not a chore anymore.  For me, that was the EGO 56V Cordless Select Cut Mower.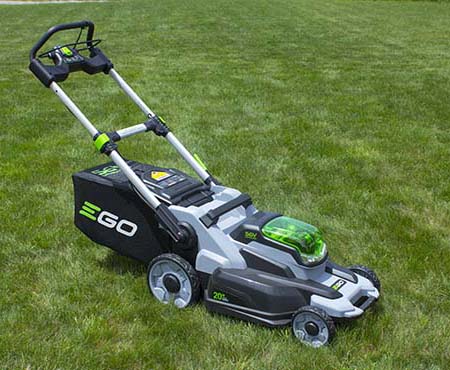 We have a large lawn and, motivated by some potent combination of Yankee frugality and sheer I'll-just-suffer-through-it determination, I've been using a cordless lawnmower for years I've known wasn't working and that I should replace. But they say inertia and status quo are the strongest forces on earth, right? In this case, they were for me.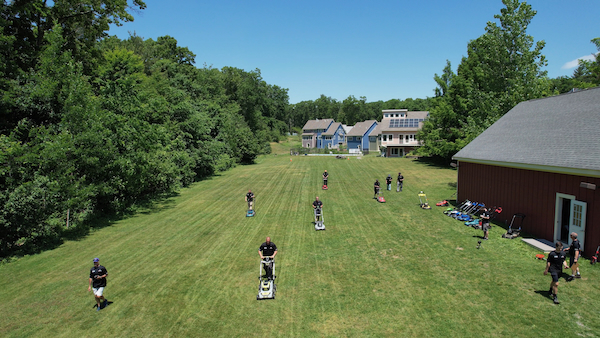 And then, in June, I helped the ToolBoxBuzz crew with their Head-2-Head comparison in which we evaluated sixteen cordless lawnmowers. The EGO 56V Cordless Select Cut Mower was featured during this test and ranked second overall. I'll reference details from that article as well as my own in this review, but in short: I loved this EGO lawnmower and was an instant convert. Check out the full Best Cordless Mower 2022 article for the full comparison, and keep reading for details on the EGO.

EGO 56V Cordless Select Cut Mower Specs
Select Cut™ Multi-Blade System, including three lower blades to choose from: Mulching blade, High Lift Bagging blade, and Extended Run Time blade, plus the upper blade

Touch Drive™ Self-Propelled Technology 

High-efficiency brushless motor

Variable Speed Self-Propel: 0.9 MPH – 3.1 MPH

7-position cutting height adjustments: 1.5-in – 4-in

3-in-1 function: mulching, bagging, or side discharge

21″ cutting deck
Bright LED headlights
1-handed height adjustment
Folds for compact storage
A 2-bushel grass collection bag
Includes Mulching blade, High Lift Bagging blade, Extended Run Time blade and Upper Blade
60-minute charge time when used with the recommended 7.5 Ah ARC Lithium™ battery and Power+ Rapid Charger

EGO Start Up & Controls
Let's start where it all begins: the controls. In short, the controls are excellent. The build quality is sturdy, and so when you handle the controls you feel connected to the mower – no flimsy connections, loose bolts, etc. This is immediately reassuring.
The handlebar has three angled settings – low, medium, and high – and the handle itself telescopes out to its full position, which is locked into place with a simple clamp. This comes in handy later when you need to fold and store the mower — a storage feature and process that ranked #1 in our head-to-head review process.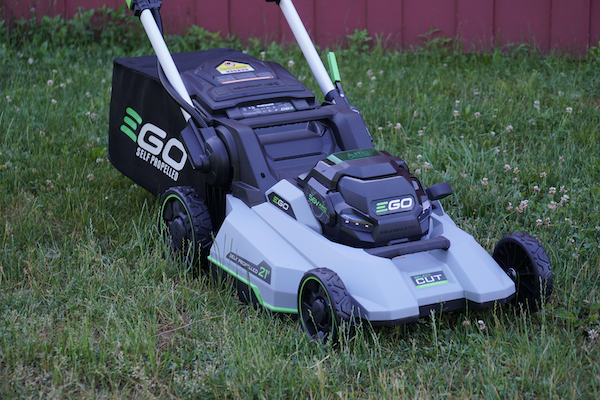 In terms of usability, the use is intuitive, with large and clearly labeled buttons. As to the so-called "Touch Drive" self-propelled feature, it has a throttle on the handle that is easy to dial up and back through the variable speeds of 0.9 – 3.1 mph. Notably, and importantly, the self-propel does work when you are not actually cutting grass. As an aside, I don't understand mowers for whom this doesn't work. I often need to move the mower from one side of the lawn to the other, without mowing. Anyway – this feature is appreciated, and not included on all mowers.
Additionally, the mower does have two LED lights on the front, which you can turn on. At first, I wondered about this, and then I used them once when I came home late and needed to mow the lawn at dusk, and found it helpful in getting the mower around – including into and out of my dark garage. I will use them rarely – but they are a nice extra to have,
Finally, adjusting the height is easy: It's just one easy-to-use lever that takes you through 7 different height positions. It's just that easy.

EGO 56V Cordless Select Cut Mower | Build Quality
As I mentioned previously, build quality is pretty solid. There are some areas where they used plastic instead of metal, but I understand the goal here: this is a consumer product, not a "pro" model, and the use of plastic is designed to cut down on weight. In my use of it so far, I have no concerns or problems with this. It feels solid, and after multiple uses and being bumped and moved around my garage as per normal, nothing has broken and I have no concerns.

EGO Mower Runtime
For a long time, the question that everyone had about battery-operated mowers is: how can they possibly compete against gas in terms of performance? The technology has come a long way, and these models perform very impressively – especially EGO.
EGO has built a reputation for strong battery performance, and with this mower, you can see why. With its 54v 7.5 Amp hour battery, in our head-to-head, this EGO mowed 20,678 sq feet of lawn. It can run for a little over 2 miles. With its quick charger, these batteries can charge in an hour or so, and I have two batteries, so downtime simply has not been an issue for me. If one battery runs out, I put it on the charger and use the one that's charged.
Storing The EGO 56V Cordless Select Cut Mower
The storage of this mower is impressive. My last mower didn't fold – it simply stored upright in the form it was designed to be mowed and so, with the organization of my garage, the handle was always sticking out and in the way. It was a pain.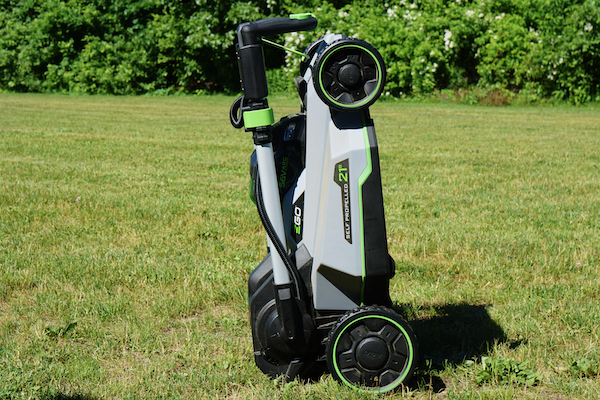 The EGO, on the other hand, folds easily onto itself. The handle telescopes in, and then the whole mower folds onto itself. It's so easy and neat, I couldn't help but think of a cartoon in which a superhero folds into a car or something. Once folded, it can stand perfectly upright, without needing to lean against a wall or anything, or you can hang it. I found how efficient and useful this foldable feature to be unexpected and, perhaps because of this, one of my favorite things about it.

EGO 56V Cordless Select Cut Mower| Overall Impressions
Overall, I love the EGO. Out of all the mowers we reviewed, it ranked in the top three in handle design, controls, desk adjustment, storage, and quality. All around, it's an incredibly strong performer.  It's quiet yet powerful and efficient, it's compact yet can get the job done, and its intuitive self-propel ensures I can use it even after a tiring day at work.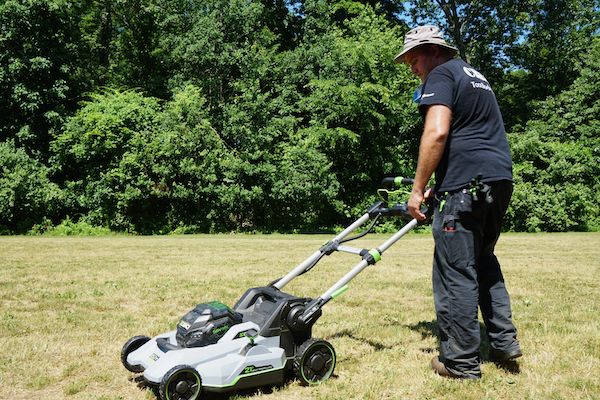 For the mower only, the current MSRP for this model is around $499. With battery and charger, you're looking at $749. Some may argue that it may be pricey up front, but once you account for the price of gas – which, as well know, has been very expensive lately – this will be relatively affordable in the long-term. I highly recommend this for anyone considering switching from a gas to an electric mower, or someone looking to upgrade their old mower. I sure am glad I did.