GiRAFFE TOOLS Grandfalls Pressure Washer Review
GiRAFFE TOOLS Grandfalls Pressure Washer Model P106-G30 Review
When I was asked to test out this wall-mounted pressure washer by GiRAFFE TOOLS I was interested to see what it was all about. I saw mixed reviews on this product online and I wanted to have a look for myself as I have been thinking about getting a wall-mounted unit.  Having only owned a gas-powered pressure washer I was excited to see how the performance of an electric model stacked up. I was looking forward to mounting this pressure washer to my wall and having the ability to pressure wash things in seconds without all of the setup up and cleanup of a gas unit. This wall-mounted pressure washer is easily hooked up to water and plugs into a standard electrical outlet. A 100′ hose with an automatic reel function is also included making things very easy and quick to use. Below I will outline my experience.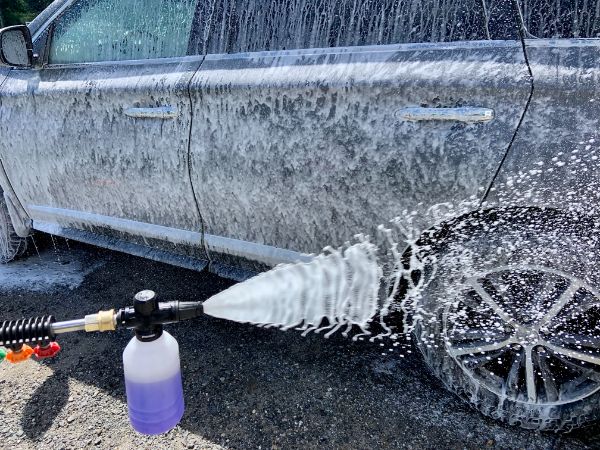 GiRAFFE TOOLS Pressure Washer Specifications
Model Number    p106-g30
Rated Voltage    120V~60Hz
Motor  13.5amp(1800w)"
Max Water Inlet Temperature 104 F/ 40C
Flow 2.1GPM
Max Pressure 2200 PSI
Hose Length 100ft
Dimensions:  23.34″x19.17″x13.89″
Cord Length: 6′
Leader Hose: 5′
Setup and Installation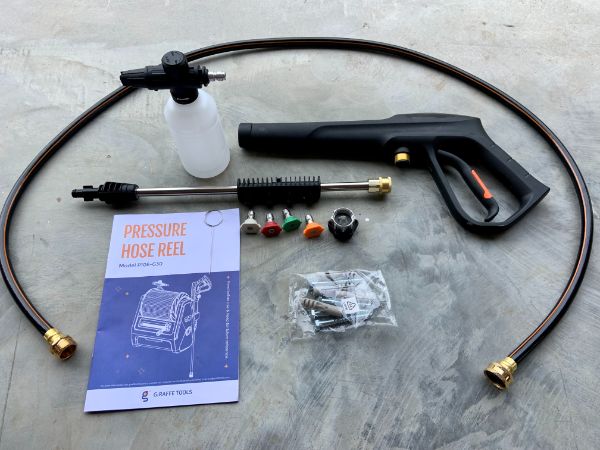 Upon opening the box the Grandfalls Pressure Washer was packaged well and also seemed to be good quality and rather simple to assemble. The Grandfalls Pressure Washer comes with everything pictured below. Conveniently, a mounting bracket is secured to the wall, and the pressure washer slides down onto the bracket to be easily mounted. I chose to mount mine to a piece of waterproof PVC that reached across two studs as I am not a big fan of plastic anchors. Giraffe Tools even included a small level for those that don't have a plethora of tools laying around. I mounted mine a little higher than the recommended 24″-32″ because I didn't want to infringe upon my storage space.
Mounting Bracket
Mounted on the wall
Space Saving
Functional Features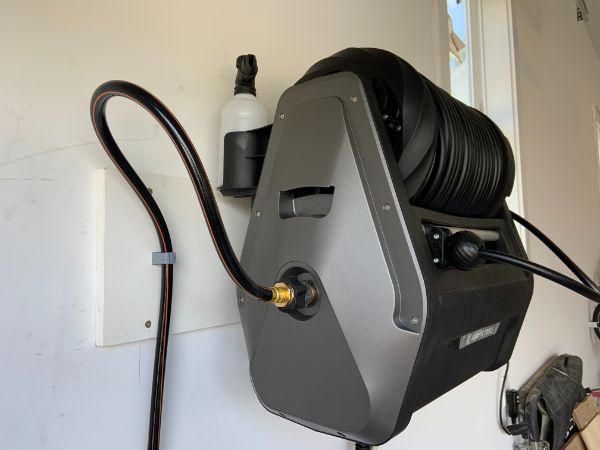 The Grandfalls Pressure Washer includes 100′ of water hose. It also neatly stores the foam gun and sprays nozzle while not in use via the built-in holders. The hose is spring-powered and has a smart lock that will lock the hose in place when you reach the desired length. A slight pull of the hose and the automatic hose reel retraction will kick in allowing you to walk the hose back to the reel. The built-in retraction system will neatly reel the hose without kinking or binding. The pump motor also shuts off when the unit is not in use and the trigger is not being pulled which helps reduce noise like most electric units.

Foam Soap Cannon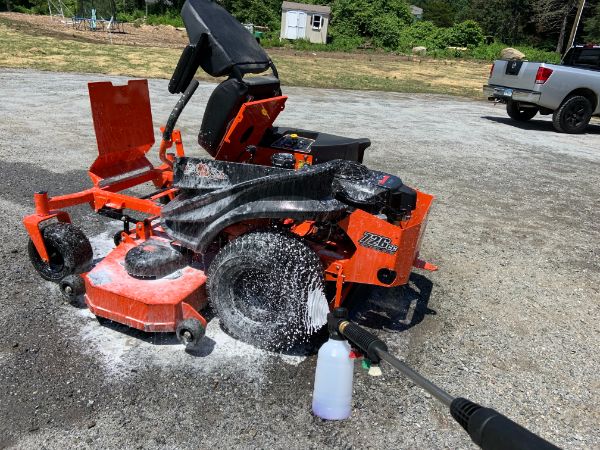 I have to admit, that I was pretty excited that the Grandfalls Pressure Washer included a foam soap cannon as I'm a little late to the foam car washing craze. I immediately ordered some Chemicalguys foam body wash to test the soap gun. The soap container easily attaches to the gun. There is an adjustment knob on the top for how much soap you would like to pull. Although this foam cannon didn't shoot thick foam like some of the professional foam guns, it was good enough for my needs.
Nozzle Tips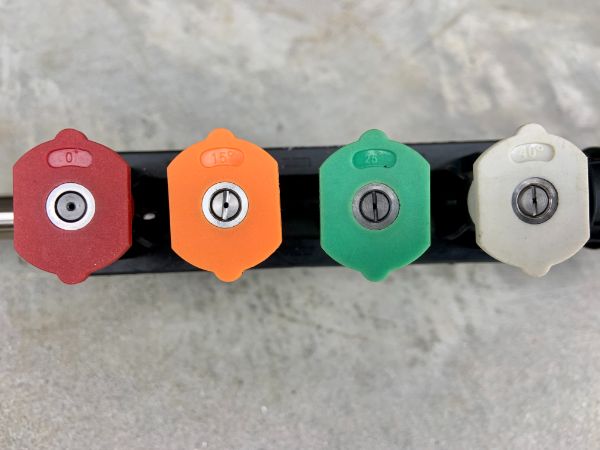 The Grandfalls Pressure Washer also comes with four different spray nozzles (0°, 15°, 25°, 40°). Therefore, you can select your desired spray pattern and pressure output. Conveniently, they are also secured to the spray gun so that you can easily access the tip you need to use.

Power and Functionality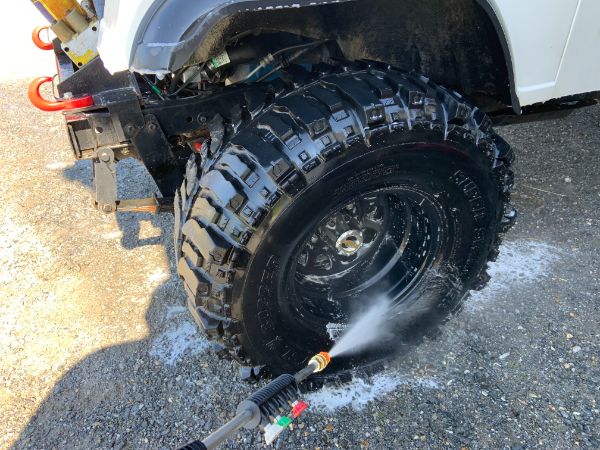 Above all, this is an electric pressure washer. Certainly, it will not compare to a gas pressure washer. It is rated at 2200 PSI when you first pull the trigger, and then it reduces slightly when in use. I found this was the perfect amount of pressure for washing my vehicles or any light-duty projects.  GiRAFFE TOOLS is going to be releasing a higher PSI (PRO) unit soon if you think this may be a little light on power for your application (keep an eye out for another review).
Cement Slab
Mower Engine Area
Floor Mats
Room for improvement
Right off the bat, I noticed that I liked the idea of the mounting system. However, I wished that it came with a wider bracket. A bracket that expands over 16″ so it could be mounted to two wall studs would be beneficial. Comparatively, I would recommend something similar to a tv mount. A mount that covers 16″ to 20″ apart would be beneficial. A larger bracket would be a nice feature and eliminate the need for plastic anchors or a homemade wall plate.
GiRAFFE TOOLS Pressure Washer Final Thoughts
In conclusion, I tested The Grandfalls Pressure Washer for over a month. I washed several vehicles, a Badboy ZeroTurn lawn mower, my entire 30×30 garage floor, a muddy dirt bike, some siding, and many other things. I really appreciate how I can turn it on, pull the hose, and be using it in seconds. During the testing process, the pressure washer worked great. I had no problems with the pressure washer and it maintained pressure well. The foam gun worked well and having the different nozzle tips to choose from was also helpful.  The 100′ of the hose is the perfect amount to reach most of my projects in the driveway. The hose pulls out nicely and reels back in easily and neatly. I think that having a pressure washer mounted to the wall is convenient and makes life easier for quick light-duty jobs.

Where to buy
The Grandfalls Pressure Washer can be purchased from the manufacturer via the link below for $309.79 with free shipping. I think that $309.79 is a very good price for all this pressure washer has to offer. With the included 100′ of hose, the foam gun, the different spray tips, and the 2-year warranty you really can't go wrong.
Grandfalls Pressure Washer
$309.79
About the author
Disclosure
Product reviews on this site contain our opinion of a product or service. We will always strive for objectivity and transparency in our reviews. Our goal is to provide readers with honest, objective information based on our own experiences. We never have and never will accept payment in exchange for a positive review. Many of the products that we review are provided to us for free by a manufacturer or retailer. In some cases, we also have advertising or affiliate relationships with manufacturers and retailers of products and services we review. For additional information please visit our additional disclosure policies.