Hallmark movies lie to you: Holiday magic doesn't simply appear out of nowhere. You have to create it yourself.
And of course, creating magical moments with twinkling lights, a fresh (or fake) pine, and the sweet scent of freshly baked cookies sometimes takes real, messy effort. Think wrestling with tree stands, untangling cords, and arguing with your partner or roommate over how to hang the ornaments. But decorating doesn't need to be difficult. We've pulled together some suggestions to make setting up for the holidays (and pulling it all down a few weeks later) an easier, more festive experience for everyone involved.
Setting up
Splurge for a good tree stand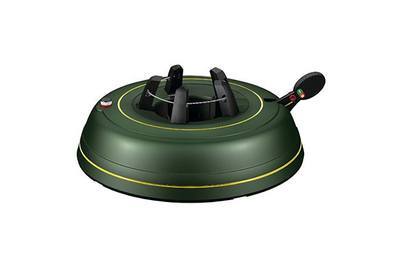 Krinner Tree Genie XXL
With a unique design that makes it easier than any other tree stand to set up—even if you're working solo—the Krinner has been our pick since 2012. It's also the most attractive stand we've seen.
Buying Options
*At the time of publishing, the price was $120.
Getting your tree perfectly straight in a run-of-the-mill tree stand can be a hassle—especially since the task is not something a person can usually do without help. After testing dozens of tree stands over the past decade, we've kept coming back to the Krinner Tree Genie XXL. Not only is the Krinner the most secure tree stand we've tested, but it's also the only stand we found that one person can set up. Unlike traditional stands, the Krinner employs a foot pedal to lock the tree in—you simply set the tree in the stand and press several times on the pedal to tighten the tree trunk into place.
The Krinner stand also takes the work out of maintaining a live Christmas tree: Its water reservoir holds 2.5 gallons, enough that you don't have to water every day. A tree of roughly 6 to 8 feet in height usually takes in 1.5 gallons or less per day, but for peace of mind a gauge on the tank keeps you updated on the water level in between fillings. To make the actual process of watering easier, senior staff writer Jackie Reeve suggests using a tree waterer like Santa's Magic Water Spout (which is sold only locally in Los Angeles, though we've seen similar products, which we have not tested, sold nationally). The tool saves you from crawling under a bushy tree to water it and can help to prevent water from spilling everywhere.
Fluff your fake tree
No artificial tree looks good right out of the box—even if you buy the most realistic-looking faux fir, you still have to fluff it to make it look presentable. Fluffing can be a tedious affair that you have to do each year, no matter how you store your tree, because you have to manually separate and arrange the branches to give the tree volume and a realistic shape. Depending on the texture of the branches, you may even consider wearing gardening gloves. This process can take up to 45 minutes depending on the size of your Christmas tree, but it's necessary if you want your tree to be awe-inspiring—so slip in a pair of earbuds and listen to some holiday music as you fluff.
Lighting and decorating
Don't underestimate how many lights you need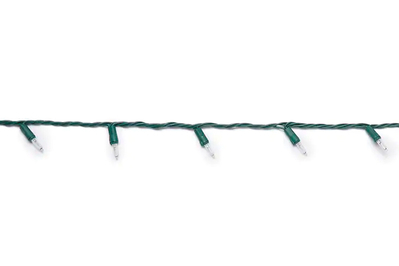 To make a tree look well-lit (but not over the top), you need about 100 lights per foot: A 6-foot tree requires 600 lights, a 7-foot tree should have 700, and so on. That may sound excessive, but after test-trimming trees using varying amounts of lighting, we found that fewer lights seemed more Scrooge-y than sparkly.
The GE Energy Smart Colorite LED Warm White Miniature Lights set, our top pick, has 150 lights per strand, so you need at least four spools to fully light a 6-foot tree. During our testing, when we were standing in front of the tree with hundreds of tiny bulbs coiled around our feet, it seemed like way too many lights—but once we'd strung them up, we were surprised at how beautifully festive the tree looked as it sparkled at us.
Though lighting can get expensive (it costs around $160 to light a 6-foot tree if you stock up on several strands of our pick), the GE Energy Smart Colorite lights are durable enough to last a decade, so we believe they're worth it. To keep them in the best shape possible, we have light storage recommendations below.
The best light-stringing method (and some easier approaches, too)
Stringing lights around the Christmas tree is a frustrating task—but there's an easier, better way to light your tree. Most lighting experts, including Wirecutter senior staff writer Doug Mahoney, say the best way to hang lights on a tree is vertically. "You're supposed to string from the bottom of the tree to the top and go in and out as you go up," Doug says, "and then bring the strand of lights down again, going in and out of the tree—and up again." In our experience, this method results in more even lighting and more depth of twinkle than if you were to wind the string of bulbs around the tree.
If you find the process of stringing lights stressful and tedious, Wirecutter senior staff writer Rose Maura Lorre suggests swapping the string lights for net lights typically reserved for outdoor bushes, though they're not among our official picks. The tree might not look as full and even as it would if you had strung lights vertically, but this method can cut down on the headache if you value your time a bit more than the look of your tree.
And if you really hate working with lights, forgo a real Douglas fir entirely and splurge on a pre-lit artificial tree. Our favorite faux tree from the National Tree Company has built-in LED lights that require no stringing (indeed, the whole lit tree is designed to be set up in under 10 minutes) and can easily switch from all-white to multicolor depending on your mood. That's one way to ensure you'll never have to wrestle with string lights again.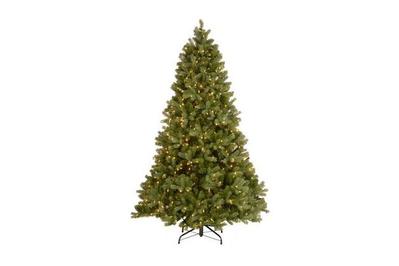 Don't decorate the whole tree
If your tree stands next to a wall, you don't have to put lights or ornaments on the back. No one will see the naked part of your tree—and this fact allows you to double the amount of lights and baubles on the room-facing side of the tree, giving the tree a fuller and brighter look. This is probably one of the few times you can get away with half-assing something so pivotal to your holiday decor—so soak it up.
The bigger the tree skirt, the better
A tree skirt with a wide diameter protects floors, catches any loose needles as they fall, and provides space for presents. If you're struggling to find a big-enough tree skirt—or would rather stick to a more budget-friendly option—wrap a festive blanket or tablecloth around the base of your tree instead. We're currently testing tree skirts, and we hope to have a pick by next Christmas.
Automate your lighting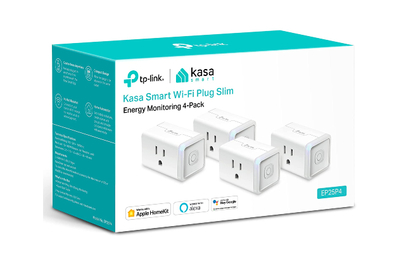 If you've ever snuggled into bed during December only to realize that you never switched off the Christmas tree, a simple, inexpensive smart-home device can help you through this annoying quirk of the holiday season. Smart-home senior staff writer Rachel Cericola uses a smart plug, the TP-Link Kasa Smart Wi-Fi Plug Slim, to keep her tree lights on a schedule. In her home, this device saves her from struggling to reach the switch hidden behind tree branches twice each night—instead, her tree switches on and off automatically at a predetermined time each evening. Setting a schedule with our favorite smart plug is easy: After downloading the associated app (which is available for iOS, Android, and Apple Home) and registering your device, head to the Schedules tab to set your smart plug on a specific timeline. Automating your holiday decor is especially gratifying for Rachel on the nights she gets home after dark. "It's really nice to come home to the lights greeting me," she says.
Taking your tree down
Store ornaments with the hooks on them
As you pack up the Christmas decor, don't remove the hooks from your ornaments. Leaving them on is helpful for both Present You and Future You—not only does it save time as you break down your holiday display, but it also saves you from the tedious process of re-hooking each ornament next year. You'll never stop thanking yourself for thinking ahead.
Use winders to keep Christmas lights organized
Holiday lights can quickly turn from a neat string of bulbs into a tangled mess. To avoid the headache of untangling lights next year, Jackie Reeve wraps her string lights around a winder to keep them in order. This inexpensive winder can hold up to 164 feet of lights, and it has a handy storage hook if you'd rather hang your lights in storage instead of boxing everything up. We also have advice on some DIY hacks if you're looking to save: You can cut a piece of cardboard (video) with a notch on one side and use that as a guide to wrap the lights around, and you can find similar strategies that involve using plastic coat hangers (video), empty cans, and toilet-paper tubes (video), too.
Take the tree down with a fitted sheet
Pulling your Christmas tree to the curb is bound to leave a trail of pine needles. An old fitted sheet is surprisingly helpful in containing the mess—just toss the sheet over the top of the tree and tuck the corners around the bottom of the tree. Using a fitted sheet instead of a flat one allows you to wrap the tree and easily contain it as you transport it outside. Senior editor Catherine Kast relied on this method for years while living in a walkup apartment, and she believes that the advice originated from an old Martha Stewart Living magazine. "It's surprisingly not hard to maneuver a tree down many stairs nestled in a fitted sheet, even if it's big," she says. "When you get outside, unwrap the tree, flap the needles out of the sheet, then put the sheet in the wash, and everyone is happy. I never made a mess of my hallways. My neighbors were in awe."
This article was edited by Catherine Kast and Annemarie Conte.