Milwaukee M18 FUEL Compact Pipe Threader Model 2870-22 Review

The Milwaukee M18 Compact Pipe Threader Model 2870-22 may be portable due to its compact size, however, it packs more than enough power to get the job done. The tool itself, weighing in at just 10.62 pounds is the lightest cordless pipe threader currently on the market. Milwaukee paired this ultra-light pipe threader with their own branded Milwaukee die heads that are the industry's lightest die heads made of military-grade aluminum. The two combined make this the perfect lightweight kit for use by mobile service contractors or for light-duty construction projects where you will be threading 1/2″ to 1-1/4″ pipe.

Specifications for the Milwaukee M18 FUEL Compact Pipe Threader
Power Source: M18 FUEL Batteries

Length:

19.7″

Weight:

10.62 Lbs.

Height:

8.2″

Width:

3.5″

Heads: Milwaukee NPT Portable Pipe Threading Dies

Motor: Brushless

Warranty:

5 Years Tool/ 3 Years Battery
Milwaukee M18 FUEL Compact Pipe Threader Carrying Case

Personally, I am a fan of Milwaukee's carrying cases.  The Milwaukee Compact Pipe Threader comes with a hard case that helps to keep the kit neatly organized. It brings everything you need to thread pipe easily into the job site. The threader, 2 batteries, charger, and the included 4 die heads also fit securely in the case. The entire package weighs in at 40 pounds, which is a huge weight saving compared to traditional pipe threading machine set-ups. The case also includes a rubber seal to protect the rapid charger and batteries from the oil dripping off the threader and die heads.

Given the popularity of Milwaukee's PACKOUT storage systems, I would love to see the option for a 2870-22 that comes from the factory in a dedicated PACKOUT box. While it would be a larger and bulkier storage solution than the standard injected molded plastic case, it would be ideal for users currently invested in PACKOUT storage. Such as the ENTIRE mechanical trades population.
M18 FUEL Batteries and Charger
The Milwaukee Compact Pipe Threader is compatible with all M18 batteries. The model 2870-22 kit includes (2) RedLithium High Output XC 8.0 batteries. These 8.0 batteries are beastly while offering weight reduction compared to the 12.0 Ah batteries included with the full-size M18 Pipe Threader. During the review process, the M18 compact pipe threader was used at a couple of service call's to thread a total of 12 pieces of 1″ black pipe. We started the job with a fully charged battery and finished with 3/4 charge still available. In my opinion, that is excellent battery performance for a tool designed to be as portable and nimble as the M18 pipe threader.
  
If working on a job site without a power source the two included XC8.0 batteries provide enough power for likely a full day's work, given the intended use of the tool. If you happen to drain both batteries the rapid charger will make quick work of charging any of your M18 & M12 Milwaukee batteries. Milwaukee advertises the Rapid Battery charger as being 40% faster than their standard charger.
Compact Yet Powerful
The Milwaukee Compact Pipe Threader is much smaller than the full size and is said to be the lightest cordless pipe threader on the market. It is perfect for setting up in the area where you are working instead of a dedicated pipe-threading station. For us, bringing this lightweight threader into a residential house for one or two pipe threads is a very common application. The brushless motor provides the power to thread up to 1-1/4" black iron pipe, stainless steel, rigid metal conduit (RMC), and more. The majority of the pipe we threaded was 1″ and the M18 compact pipe threader feels tailor-made for this task. The XC8.0 batteries also provide plenty of power to thread pipe without any hesitation.

M18 FUEL Compact Pipe Threader Additional Features

The Milwaukee Compact Pipe Threader also features the One Key tracking system to track and manage your tool. One of the best features of the Milwaukee Compact Pipe Threader is the enhanced kickback control. The threader will sense kick back & automatically shut the tool off. I was originally worried about this feature being too sensitive, but Milwaukee has this tool so dialed in that it works perfectly and only stops when needed, not affecting its performance. Rubber side grips on the Milwaukee pipe threader allow you to grip the tool and apply pressure without slipping.

Milwaukee Compact Pipe Threader Support Arm
The Compact Pipe Threader includes a support arm that locks onto the pipe and into the tool. This support arm eliminates the need for a pipe stand in certain applications. The support arm has proven to be very valuable when threading already installed pipes or doing service work in the field. In addition, when we use this compact threader along with a vise, we still find ourselves using the support arm due to the tool's compact size. While reviewing the full-size Milwaukee pipe threader we did not always need to use the support arm because the tool was much longer and you were able to apply more leverage. This added feature has opened our eyes to the fact that support is a blessing. It can also make threading pipe an easier job regardless of which size Milwaukee threader you are using.
Front View
Left Side View
Right Side
Milwaukee M18 FUEL Compact Pipe Threader Retention System

The Milwaukee Compact Pipe Threader has an easy retention lock. This lock prevents die head ejection and holds the die head in the tool. This retention switch is an excellent feature and allows the die head to go in or come out quickly. This is a far superior system compared to traditional Rigid pipe threaders, where the die heads often get stuck. Those days are over, thanks to Milwaukee's retention system.

Milwaukee Pipe Threader Compact Die heads

Milwaukee now has its own branded NPT forged aluminum die heads. These die heads are only compatible with this Milwaukee M18 Compact Pipe Threader and the Ridgid 600-I Power Drive.  They are the industry's lightest die heads and are Forged from military-grade aluminum. Their lightweight, yet durable, construction provides even more weight savings to the overall tool package. The 2870-22 kit includes (4) compact Die Heads:
The compact dies heads have 20% larger slots for increased visibility and less nesting. The bigger slots make oiling the threads easier as well.
Side View
Top View
Close Up
Milwaukee M18 Pipe Threader Comparison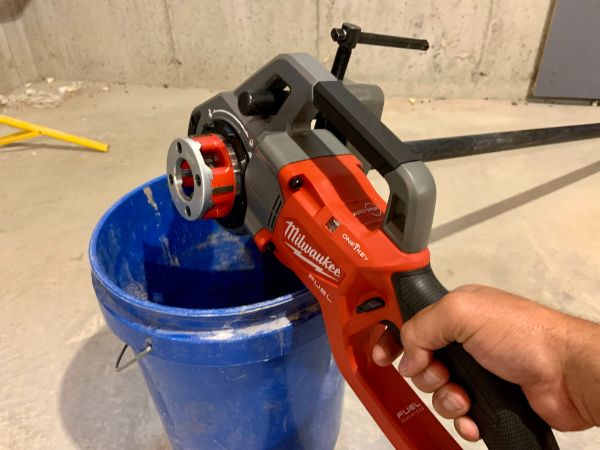 As mentioned earlier, we previously reviewed the Milwaukee Full-size M18 cordless pipe threader which was an absolute beast. The full-size tool is great for a wider range of pipe sizes. The full-size version is larger, stronger, heavier, and can handle a wider variety of sizes. Undoubtedly, the Milwaukee Compact Pipe Threader has its place in the trade as a more portable and agile pipe threader kit that is ready to use and excellent for smaller diameter pipe and smaller jobs. They both compliment each other well with their designs and capabilities.

Final Thoughts on the Milwaukee M18 FUEL Compact Pipe Threader
In conclusion, The Milwaukee Compact Pipe Threader is an excellent tool. It is sold as a complete kit, with 4 die heads, 2 batteries, and a rapid charger. It is an excellent lightweight kit for those smaller jobs of threading pipe 1-1/4″ and under. Its weight, size, and kit completeness simplify the threading process immensely. More importantly, the 2870-22 brings new technology and improved ergonomics to what has always been a pretty barbaric task in mechanical construction. Milwaukee built a lightweight, capable, and well-thought-out tool with the M18 compact pipe threader. It will reduce the fatigue and hassle commonly associated with pipe threaders and should be a staple of mechanical service trucks and light-duty commercial projects.

Purchase the Milwaukee M18 FUEL Compact Pipe Threader
The Milwaukee compact pipe threader can be purchased for $2,199.99. It is currently only offered as a full kit. If you normally thread pipe that is under 1-1/4″ then this is the kit for you. Since the die heads are included, I think that this is a complete high-quality kit that is definitely worth it for any tradesman in need of a new threader or that is interested in shedding some "LBS" on the job site.
Use the Buy Now button below to purchase the M18 Compact Pipe Threader from our friends at ACME Tools.
M18 FUEL™ Compact Pipe Threader w/ ONE-KEY™ w/ 1/2″ – 1-1/4″ Compact NPT Forged Aluminum Die Heads
$2,199.99