A hot, steamy iron is a crucial tool in your laundry arsenal. A steamer does a pretty good job of smoothing some fabrics, but nothing creates sharp pleats or flattens stubborn wrinkles like an iron. We've tested more than two dozen irons and researched countless more, and our two-time winner, the lightweight, affordable, and reliable Maytag M400 Speed Heat Iron and Vertical Steamer, is still our favorite.
Our pick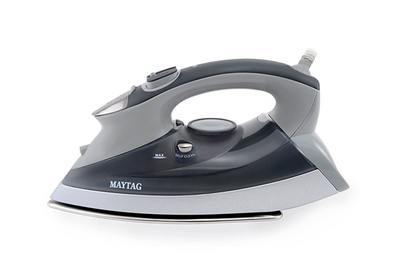 The Maytag M400 checks a lot of boxes for an iron that usually costs less than $50. It's quick and effective at busting wrinkles, and it's the most affordable iron I've tested that works reliably, with no leaking. It begins producing steam in about 25 seconds, faster than any other iron I've tried, and although it has the smallest water tank (6.5 ounces) of our three picks, it produces steam for about 30 percent longer than our upgrade pick, the Rowenta SteamForce, which typically costs almost three times as much. The Maytag is also the lightest of our picks, which makes it easy on the hands and arms. Although heavier irons can be useful to flatten wrinkles, I was still able to easily smooth fabrics with the Maytag's strong, solid burst of steam. It has a two-year warranty (longer coverage than the SteamForce, but the same as our runner-up, the Black+Decker Allure), and we've long-term tested it for three-and-a-half years so far with no problems.
Runner-up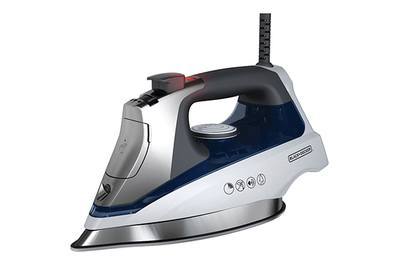 Black+Decker Allure Professional Steam Iron D3030
This affordable iron produces more powerful steam than many other models we've tried (even pricier ones), so it removes wrinkles quickly. The company has strong customer service, too. The heating element, however, is prone to breaking.
Buying Options
*At the time of publishing, the price was $62.
The Black+Decker Allure Professional Steam Iron D3030 creates stronger whooshes of steam than the Maytag M400, its stainless-steel plate glides smoothly across a variety of fabrics, and the handle is one of the most comfortable to hold and use. It's a fantastic, affordable iron—as long as it works. This iron was our former top pick, but after a year, the heating element broke. Thanks to its two-year warranty, I easily traded it in for a replacement, which I've been using since late 2016 with no problems. We've seen similar reports of poor reliability in reviews as well. If you don't mind replacing this iron every so often, it's still a top performer, and it usually costs a few dollars less than the Maytag.
Upgrade pick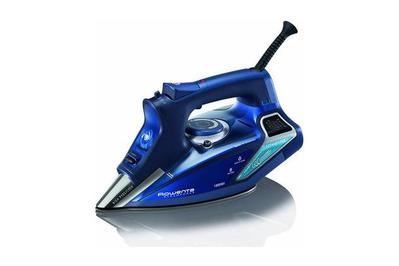 Rowenta SteamForce DW9280
The SteamForce is the most reliable iron we've ever tested, with the strongest bursts of steam, but it costs nearly three times as much as many we tried and has only a one-year warranty, the shortest amongst our picks.
Buying Options
*At the time of publishing, the price was $150.
The Rowenta SteamForce DW9280 iron performs better than any other iron I've tested. It melts creases out of crinkled button-downs and flattens quilt seams with almost no effort. I've never seen an iron give off more steam. I've been using our original test model since 2015, and it still produces strong steam, with just a few minor water leaks onto fabrics. It's heavier and much more expensive than our top pick and runner-up, but it's worth the upgrade if you craft or sew (that weight is helpful for pressing seams), do tons of laundry, or want an iron with the best chance of surviving more than a couple of years.