From family vacations to action sports, ski holidays to beach holidays, diving, hiking, skating and more, an action camera is the best way to share your adventures with your friends and the world. We think the GoPro Hero10 Black is the best choice for most people. It has excellent video quality, an integrated mount, ridiculously effective image stabilization, and more. Its overall performance is among the best in its class, and it's very easy to use. Although our upgrade pick, the newer and more expensive Hero11 Black, has an improved image sensor, most people won't notice the difference between the two.
Our pick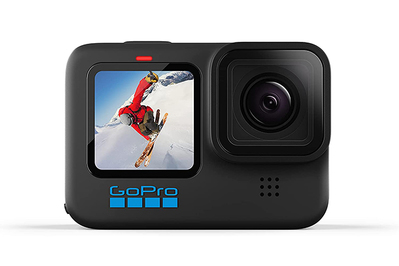 GoPro Hero10 Black
Impressive stabilization paired with vibrant, detailed 5.3K resolution video makes the Hero10 the best balance between cost and capability.
The GoPro Hero10 Black is the best action camera for most people due to its ease of use, excellent image quality, and rock-solid image stabilization. The 5.3K video (nearly 80% more pixels than the 4K found in most action cameras) is razor-sharp, the 240 frames-per-second slow motion is ultrasmooth, and the stabilization is so effective at removing bounces and shakes that it's like you've got the camera on a gimbal. It's also easy to make fast-motion time lapses, take high-resolution photos, and edit it all in GoPro's app for quick posting to social media.
Budget pick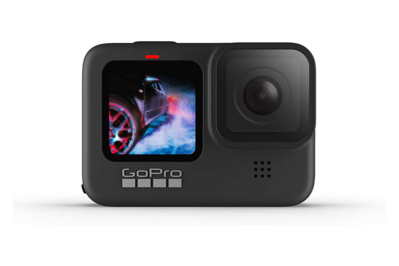 GoPro Hero9 Black
The Hero9 captures nearly the same resolutions and frame rates as the Hero10 and is a bit more sluggish, but it's a fantastic value for nearly the same video quality.
If you're not prepared to spend more than $400 on an action camera, the GoPro Hero9 Black offers much of the Hero10's performance for less money. It does pretty much everything the Hero10 does, just not quite as well, and its slower processor makes it more sluggish to use. Most notably, the Hero9 maxes out at 5.3K 30 to the Hero10's 5.3K 60. So you won't be able to get as smooth a motion at the highest resolutions, nor will you be able to do smooth slow motion at that resolution. The slowest slow motion, 240 fps, is available on both cameras, but at 1080p on the Hero9 compared with 2.7K on the Hero10. These aren't huge differences for most people, and 1080p looks fine on social media, but if you use it a lot you may notice the Hero9's less responsive user interface.
Upgrade pick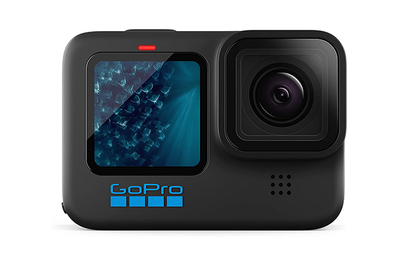 GoPro Hero11 Black
The Hero11 makes it easier to record vertical video for TikTok or Instagram and has higher bit rates. It's a small step up from the Hero10.
GoPro's latest camera, the Hero11 Black, has a new, larger almost-square image sensor compared with the rectangular sensors in the company's other cameras. This means you can record vertical videos for TikTok or Instagram Stories/Reels at the same time as horizontal video without having to change the camera's orientation to vertical. Video frame rates and resolutions stay the same, but it's now capable of 27 megapixel still images, up from 23 on the Hero10. Video image quality gets a subtle boost thanks to an increased bit rate and Horizon Lock, which allows you to vertically spin the camera 360 degrees while the image remains flat compared with the horizon, is now built into the camera where before it required the Max Lens Mod.
Other improvements like 10-bit color are aimed at professional users, but if you're editing on a phone and posting to social media you won't see much difference. If you're unsure whether you'll need these features, you probably won't, so you can save a little money by getting the Hero10. If you just want the latest and greatest, the 11 is a small but noticeable improvement over the 10.
Also great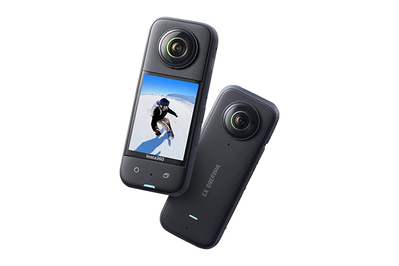 Insta360 X3
The Insta360 X3 is the first 360 camera that easily doubles as a traditional action camera while still offering a 360-degree spherical video.
The Insta360 X3 is an action camera with a twist: a lens on each side. Instead of choosing one thing to record, you record everything at the same time. Later, during the editing process, choose what you want to show to everyone else in a highly polished video viewable anywhere. It greatly increases the creative possibilities with video and photo editing.
The X3 is easier to use than any other 360 camera we've tested so far. Its huge screen helps you see what you're recording and adjust settings, and hard buttons let you switch between 360 mode or just the front or rear cameras. Plus, the new "Me" video mode automatically keeps the camera's view on you, speeding up the editing process. Although the X3's image quality isn't quite as impressive as that of the GoPros we recommend, it's still great. I've traveled with 360 cameras for years, but this is the first one I felt comfortable using as a main action camera.