As long-term owners of these bottles ourselves, we know how often parts get damaged or go missing, so this guide includes a section dedicated to replacement parts for all our picks. We also address care and maintenance in detail, highlighting one accessory that has proven to be an essential companion for any bottle owned over the long run: the OXO Good Grips Water Bottle Cleaning Set.
Our pick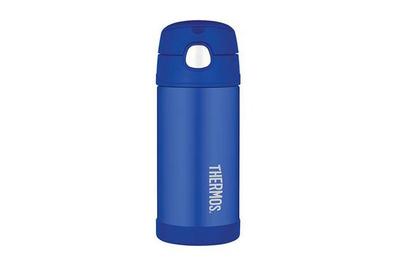 The 12-ounce Thermos Funtainer Stainless Steel Water Bottle With Straw is our favorite kids water bottle because it's the easiest one to use. Our youngest testers were able to open and close the top on their own, and its button-release cap design keeps grubby fingers off the straw, prevents leaks, and makes the straw less likely to get dirty when the bottle is dropped compared with other bottles we tested. With only four parts, the Thermos Funtainer is easy for adults to take apart to clean, and the whole thing is safe in the top rack of a dishwasher. The vacuum insulation keeps drinks chilled for up to 12 hours, and the Funtainer usually costs much less than other insulated bottles. Plus, if your straw wears out or becomes too dirty, you can simply purchase a replacement—no need for an entire new bottle.
Our pick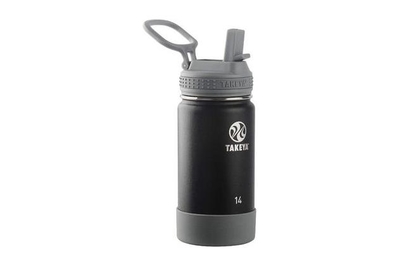 The 14-ounce Takeya Actives Kids Insulated Water Bottle With Straw Lid has a hard folding spout (attached to an internal straw) that kids can open and close securely. Like the Thermos Funtainer, the double-walled Takeya Actives Kids keeps drinks cold for hours. It's the easiest of our picks to take apart and reassemble for cleaning, and you can place both the bottle and the top in the dishwasher. Although this bottle is typically more expensive than our other picks, the larger capacity (it also comes in even bigger sizes) and bright but not childish color options are likely to appeal to older kids, as well as to grown-ups looking for a smaller bottle. Note: If you'd prefer to go strawless, you can simply remove the internal straw and tilt back the bottle to drink, or you can purchase this Takeya spout lid, which fits onto the same base.
Our pick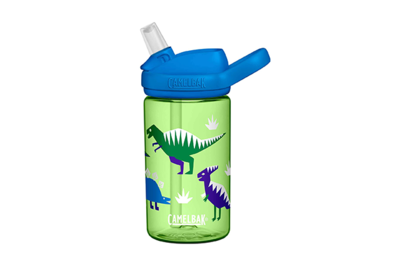 CamelBak Eddy+ Kids (14 ounces)
The CamelBak Eddy+ Kids straw bottle is a breeze to take apart for cleaning and simple for young kids to use, but it can leak if the spout is in the wrong position.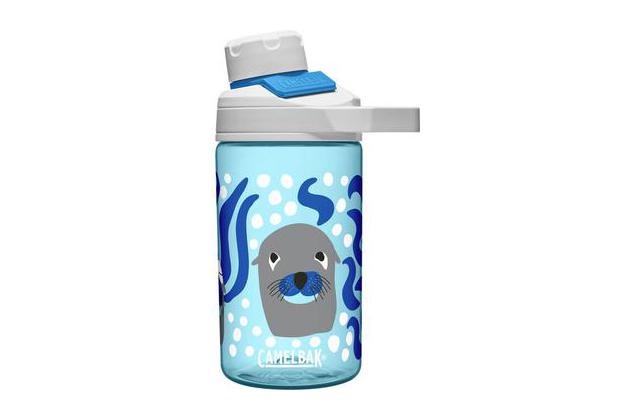 CamelBak Chute Mag Kids (14 ounces)
The Chute Mag Kids is the same bottle as the Eddy+ Kids but has a spout top instead of a straw. An attached magnetic cap helps keep the cap on the bottle; still, you need to screw it on tightly to prevent leaks.
The durable, 14-ounce CamelBak bottle is the lightest of our picks thanks to its plastic construction, and the dishwasher-safe bottle comes apart easily for cleaning. The same base is available with either a straw lid or a spout lid. The CamelBak Eddy+ Kids comes with a straw spout that is easy to open and close, and because of its bite valve, it won't leak even when its spout is open and it's held upside down. Yanking the valve out of place, however, can cause major leaking, and the valve may not survive heavy chewing (though it is replaceable). The bottle is also not insulated—be ready for warm drinks or lots of condensation. If you prefer an easier-to-clean, strawless option, the CamelBak Chute Mag Kids has a spout top with an attached magnetic cap. The Chute Mag Kids is better for kids who can handle the fast flow of an open spout and can remember to screw the cap closed.