When steak (or any serious cut of meat) is on the table, a set of steak knives should be, too. After 40 hours of research, interviews, and testing, we're convinced the Messermeister Avanta Pakkawood knives offer the best value by far. Beautiful to look at, comfortable in the hand, and as high-performing as knives six times their price, they're great tools. (And if you prefer a classic black handle, the Messermeister Avanta knives come that way too.)
Our pick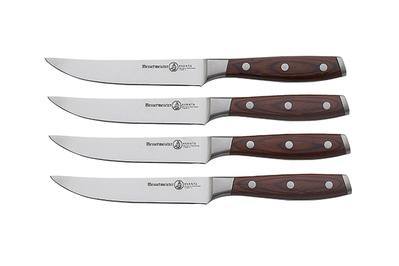 Messermeister Avanta Pakkawood
Beautiful to look at and as high-performing as knives six times their price, the Messermeister Avanta Pakkawood steak knives are great tools and an exceptional value.
The blade edges on the Messermeister Avanta Pakkawood knives are smooth and very sharp, capable of cutting tough steaks easily. They feature full-tang constructions, which means a single piece of steel forms the blade, bolsters, and handle. This design, which adds to the knife's strength and weight, isn't commonly seen in other steak knives at this price.
Also great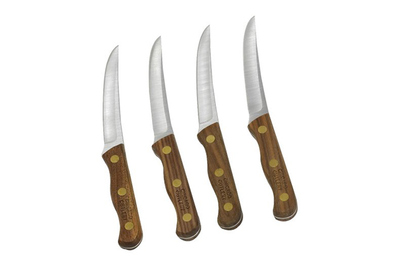 Chicago Cutlery Walnut Tradition Steak Knife Set
Beautiful? No. Functional? Very much so—especially compared to the universally awful serrated knives that dominate this price level. You'll pay more for a pint of microbrew than for each Chicago Cutlery Walnut Tradition steak knife.
If budget is a chief concern (because you need 20 settings for a wedding, for example), Chicago Cutlery's inexpensive Walnut Tradition knives are a fine option. They're not beautiful, but they're well-made, and, with smooth-edged, boning-knife-like blades, they perform far, far better than the dull serrated steak knives you usually have to settle for at this price.
Also great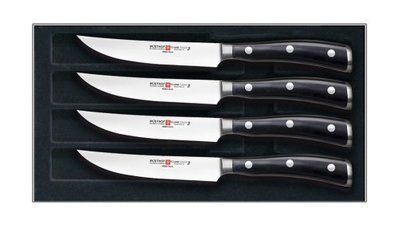 Wüsthof Classic Ikon 4-Piece Steak Set, Black
You can find showier (and pricier) steak knives, but Wüsthof's Classic Ikons are beautifully designed—the most comfortable to hold of all the knives we tested—and as finely crafted as their German engineering suggests.
If you're looking for luxury, Wüsthof's Classic Ikon steak knives are elegant and exceptionally well-constructed. "German engineering" is a catchphrase for a reason, and these knives demonstrate it in every aspect. The satin-finished black handles are joined seamlessly to the steel; the blade is both sharp and tough and will perform for years without maintenance; the weight and hand-feel of the knives is, as several testers put it, "perfect."
Also great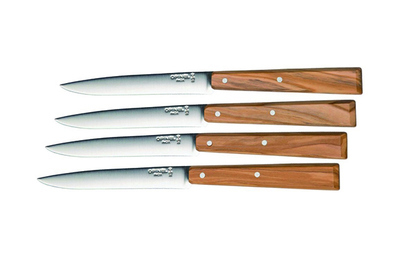 Opinel No. 125 Bon Appetit Set
Opinel's olivewood-handled No. 125 Bon Appetit knives are a standout choice if you prefer a lighter, more modern look; they also (as steak knives of any design must) have very functional blades. An otherwise identical version comes in cheerful colored hornbeam wood.
Buying Options
*At the time of publishing, the price was $59.
Finally, if you need steak knives but also want a contemporary look, Opinel's No. 125 Bon Appetit Set fits the bill. A respected French knife maker for well over a century, Opinel often employs unusual natural materials, like the olive-wood handles used here and the color-dyed hornbeam-wood handles used in an otherwise identical (and slightly lower-priced) set.