A bike handlebar bag is simple. It's a fanny pack for your bike, built with consideration for all of your bike-specific needs, like being able to open it while you're riding, or having access to a subway card or a key. While a good one can't change your life, it can save you from showing up with a sweaty back after pedaling across town to the office, the party, or the office party. And maybe showing up less sweaty to that party will change your life. After spending almost 20 hours interviewing cycling professionals and researching handlebar bags on the internet, we picked 14 bags, put them on our bikes, and started riding. And now we're sure that the Road Runner Bags California Burrito is the best choice for anyone looking to change their ride.
Our pick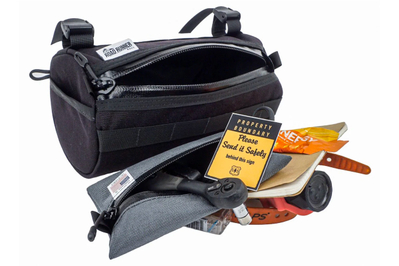 Road Runner Bags California Burrito
Spacious without taking up too much real estate on your handlebars, this Cordura-nylon bag is simple, easy to use, and capable of holding all the essentials.
The Road Runner Bags California Burrito is simply designed in a way that's effective, elegant, and durable all at once. This 3.3-liter, tube-shaped bag (about the size of a six-pack) fits all the essentials you might need for a day on your bike: wallet, phone, keys, some tools, snacks, and a light jacket. This is the biggest bag that Road Runner makes—yes, you could get away with a smaller bag, but having some extra room is convenient. The nylon straps are movable to fit your bar width, and that simple yet unique feature makes this bag stand out from the other bags we tested. It has a single zipper that's easy to operate while you're on your bike and side pockets for small items you might want to access quickly. Made of durable Cordura nylon, it comes in six fun colors to match your bike. The California Burrito also readily converts into a shoulder bag with Road Runner's universal shoulder strap (sold separately).
Budget pick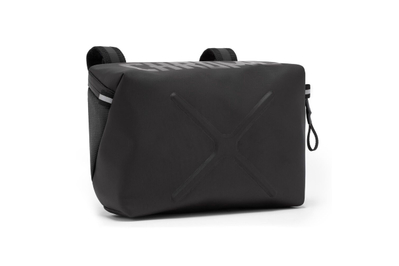 Chrome Helix Handlebar Bag
Sleek, low profile, and more water resistant than our top pick, this polyurethane-coated polyester handlebar bag is just the right size to go with you all day long. Its handlebar mounting system could be better, though.
The Chrome Helix Handlebar Bag is sleek enough to bring with you anywhere, but in our tests we found that its Velcro harness attachment system wasn't quite as functional on our bike as that of our top pick. Though some people might balk at a $65 bag being considered a "budget pick," we determined that the $50 to $60 range was the least one could expect to spend on a bag and still have it be sturdy enough not to bounce around on the handlebars. This 3-liter rectangular bag is the size of two takeout containers (the classic white folding-box kind). Accessing items while you're on your bike is easy since the lid opens toward you; while that feature isn't unique, it isn't common to all handlebar bags. The Helix doesn't have any exterior pockets but does have two interior mesh pockets. It's made of a durable and very water-resistant polyurethane-coated polyester material that's stiff enough to keep its shape even when empty. This bag's stowable sling belt makes it carry well off a bike, too.
Upgrade pick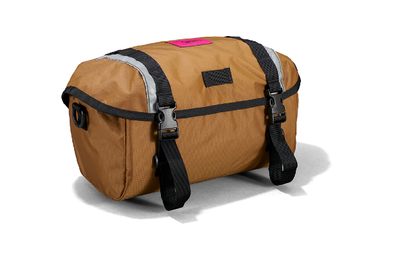 Swift Industries Catalyst Pack
Built with recycled laminate nylon sailcloth material, the Catalyst is a high-capacity and solidly constructed bag that works just as well on and off a bike.
The Swift Industries Catalyst Pack is the only bag that looks like a messenger bag off a bike yet still functions as a handlebar bag on a bike. Rectangular in shape, it has a top flap that clips down over the front of the pack, as well as an internal cinch closure, much like a shoulder bag you'd see someone wearing. This is an expensive bag, but it's unrivaled in thoughtful features for commuting by bike. It's made of the sturdy and waterproof Ecopak EPLX400 fabric, a recycled nylon material originally designed for sailcloths. This bag's even larger sibling, the Zeitgeist Pack, is popular in bikepacking circles and has been known to last for many thousands of miles. The slightly smaller Catalyst is the perfect size for bike commuting, though. This bag has a 6-liter capacity, just big enough to fit a Yorkshire terrier or other small dog breed—in fact, this is the only bag we tested that felt sturdy enough to confidently carry a furry friend on a bike's handlebars. We managed to stuff an entire 3-liter box of wine into this bag, along with a warm jacket, snacks, tools, and a book. Even though the Catalyst is quite large, it's just small enough to fit on pretty much any set of handlebars and is surprisingly lightweight. The expandable lid works great for quickly stuffing a jacket underneath while you're riding, too.
Also great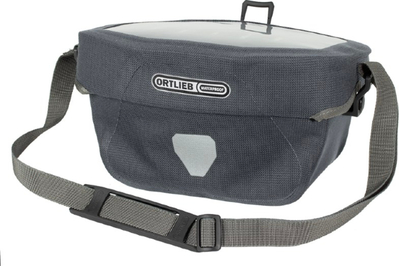 Ortlieb Ultimate Six Urban
This high-tech quick-release mounted bag is made of a fully waterproof, polyurethane-coated Cordura nylon and offers easy access on a bike.
The Ortlieb Ultimate Six Urban handlebar bag looks like a surprisingly fashionable lunch box, but this lunch box is easy to use while you're on your bike, and the 5-liter capacity can hold a lot. We easily fit a six-pack of cans in this bag, with room for a few sandwiches to complete the picnic. The lid uses a magnetic closure and flips open away from the rider, so it doesn't sit between you and the bag's opening, which faces the rider; as a result, you can open the lid with one hand while you're on your bike and dig around inside. (This was the only bag we felt confident enough to do that with.) It also has a clear touchscreen-compatible pocket on the top of the lid so you can have your phone viewable at all times—handy if you're using your phone for maps. Note, however, that you have to purchase this bag's mounting system separately.
Also great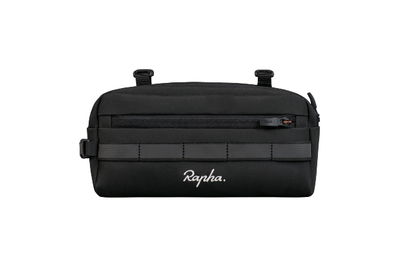 Rapha Bar Bag
This small, solidly built polyurethane-coated polyester bag can keep you light while carrying the essentials.
The Rapha Bar Bag is a lower-capacity bag that's remarkably well constructed. Everything about this bag screams excellent craftsmanship—from the immaculate construction obvious upon close inspection of the interior lining to the way the straps are tacked onto the outside of the bag. The rigid polyurethane-coated nylon material keeps it from sagging on your bars, which is uncommon in smaller handlebar bags. The main compartment remains especially accessible while the bag is on a bike thanks to zippers that are the easiest to operate of any bag we tested. It has two interior mesh pockets for small items plus a second, zippered exterior pocket for anything you want to keep separate during a ride. This bag is only just big enough to fit the necessities—a light jacket, a multitool, a tube, and a bar or two—so it's better suited for recreational riding or fair-weather commuting.