Our pick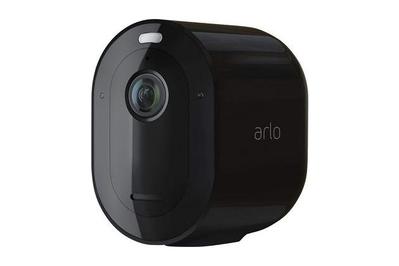 Arlo Pro 4 Spotlight Camera
This battery-operated outdoor Wi-Fi camera provides clear 2K images. With the storage plan, it can also distinguish between people, animals, vehicles, packages, and general motion.
Compatible with: Amazon Alexa, Apple HomeKit (with a compatible base station), Google Assistant, IFTTT (If This Then That), Samsung SmartThings
The Arlo Pro 4 Spotlight Camera delivers the best image and most specialized alerts of any cordless camera we tested. Like the Ring camera, the Arlo Pro 4 requires a subscription—Arlo Secure—to record clips and distinguish between people, pets, packages, and vehicles. This cordless camera delivers clear images day and night, thanks to its 2K resolution and color night vision. It can record up to five minutes of continuous motion, but this drains the battery (which needs to be charged about once a month, depending on use). The Arlo Pro 4 also offers a 24/7 recording option, but you'll pay more per month, lose Arlo Secure features, and need to spend an extra $200 for equipment.
Our pick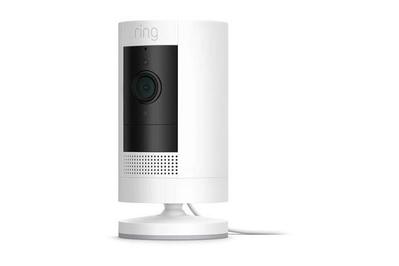 Ring Stick Up Cam Plug-In
The Ring Stick Up Cam can be powered using an included weather-resistant cord or an add-on battery. It delivers 1080p video and can distinguish between people and other moving objects.
Compatible with: Amazon Alexa, Works With Ring
The Ring Stick Up Cam Plug-In Wi-Fi camera comes with a lengthy, weather-resistant power cord, but it can also be powered by battery (sold separately). It delivers crisp, 1080p video with an expansive 130-degree view and clear two-way audio. By signing up for Ring Protect Basic, you can store recordings for up to 60 days, and it also enables features like person alerts, the option to save videos, and thumbnail-enhanced smartphone notifications. (It was $3 per month/$30 per year, but it recently increased to $4 per month/$40 per year and 180 days of storage.) Also, despite some previous issues, Ring now provides more privacy and security measures than any other camera manufacturer we tested.
Our pick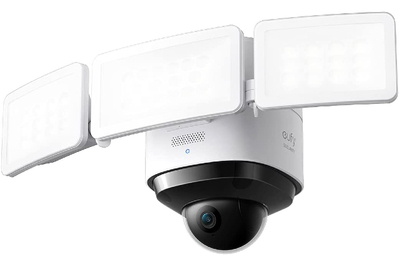 Eufy Floodlight Cam 2 Pro
This hardwired floodlight camera records in a 2K resolution, has bright, adjustable lighting, and can store video locally for free or to the cloud (for a fee).
Compatible with: Amazon Alexa, Google Assistant
The Eufy Floodlight Cam 2 Pro offers two levels of security by including a bright outdoor light and a surveillance camera in one device. It delivers the best image and lighting options of any floodlight camera we tested. The camera can pan and tilt 360 degrees horizontally and 130 degrees vertically, capturing stellar 2K images day and night—both with and without color night vision. Three integrated LED panels can blast 3,000 lumens of brightness that can be turned on and off and tweaked via the Eufy app or voice control. The Eufy is also the only floodlight we've reviewed that allows for color-temperature adjustments, from 3,000 to 5,700 Kelvin, so you can choose between cool and warm whites. It's also the only floodlight camera we've tested that offers the option of storing video locally on 8 gigabytes' worth of internal storage or in the cloud (starting at $3 per month); the cloud option will downgrade the recordings to 1080p, though. With all this going for the Eufy, unfortunately it looks like a drone-sized spaceship perched on your home.
Also great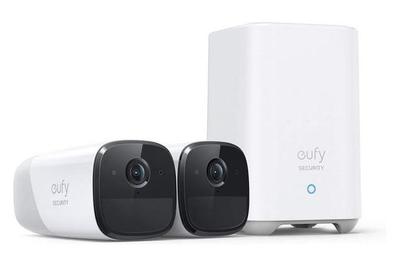 EufyCam 2 Pro
Eufy's cordless outdoor camera can't identify action as well as our top two picks. But it does deliver strong battery life, a great image, HomeKit support, and three options for storing footage.
Compatible with: Amazon Alexa, Apple HomeKit, Google Assistant
Although it's not quite as smart as the Arlo Pro 4, the EufyCam 2 Pro has the best rechargeable battery we've seen on a cordless outdoor security camera. (The company claims the battery can last one year; we experienced usage between four to 12 months, so it will depend on where the cameras are placed and how often they're triggered.) Free perks include the ability to record 2K video to the included base station, as well as the ability to differentiate between humans and other moving things. To have your video sent to the cloud, you can opt for a paid subscription to either Eufy Cloud Storage ($3/month) or Apple HomeKit Secure Video (free with iCloud, which starts at $3/month); note that both services reduce video resolution from the original 2K to 1080p quality.
Budget pick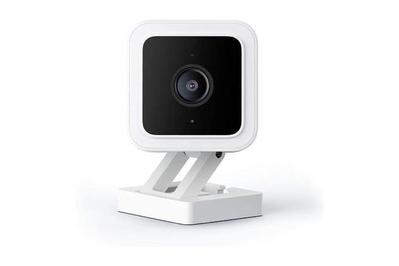 Wyze Cam v3
The Wyze Cam v3 delivers impressive 1080p video, bright color night vision, and several video-storage options—at about a sixth of the price of the Arlo.
Buying Options
*At the time of publishing, the price was $34.
Compatible with: Amazon Alexa, Google Assistant, IFTTT
The Wyze Cam v3 is cheaper than any camera on our list. It's also compact and easy to mount, and it offers free local storage that can be set to record only motion-triggered events, or always on and recording 24/7. Add in a Cam Plus subscription for $2 per month per camera (or $15 per year), and you'll get cloud storage and alerts that can distinguish between motion, people, vehicles, pets, and packages. However, those alerts aren't always accurate—we regularly saw animals labeled as people and people tagged as general motion. The v3 also doesn't have the Ring's solid construction and power cable.