Our pick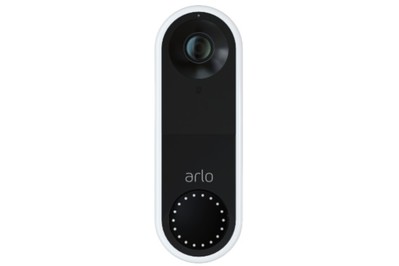 Arlo Essential Video Doorbell Wired
This slick doorbell can alert you to packages on your porch, as well as to people, animals, and cars going by. Its wide, 180-degree field of view and square aspect ratio reduce blind spots so you can see people and packages.
Compatible with: Amazon Alexa, Apple HomeKit (with a compatible base station, such as the Arlo SmartHub), Google Assistant, IFTTT, Samsung SmartThings
The Arlo Essential Video Doorbell Wired is our top pick because—along with its great hardware and fast response times—it can accurately distinguish among people, animals, vehicles, or packages. This means it also keeps false alerts (a problem with many other models) to a minimum. For that advanced sensing and the ability to capture video clips up to five minutes long, you need a $3-per-month Arlo Secure subscription. But we find these features to be essential, and the price is fair (otherwise you're restricted to motion/bell alerts and live video streaming). The Arlo doorbell camera also captures crisp video, with a 1536×1536 resolution and a wide, 180-degree viewing angle in a square format; this provides a comprehensive vertical and horizontal view of what's going on in front of your door, whether it's deliveries or visiting raccoons.
Runner-up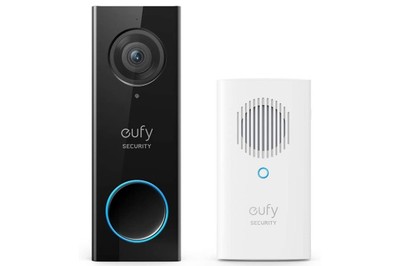 Eufy Security Video Doorbell 2K (Wired)
This affordable smart doorbell packs a lot of complex features, including a 2K image, person detection, local storage, customizable responses, and a separate wireless chime.
Compatible with: Amazon Alexa, Google Assistant
The Eufy Security Video Doorbell 2K (Wired) has a lot of included features that most other companies charge for, including enough internal memory to store up to 30 days' worth of video and the ability to distinguish between people and other motion, such as from birds or swaying branches. (The Arlo, however, was a little more accurate in this area.) The wired Eufy doesn't have as wide a viewing angle as the Arlo, but it creates clear recordings (as long as it detects motion) for up to five minutes. It stores those clips in its 4 gigabytes of built-in memory or Eufy's cloud service (which offers 30 days of history for $3 per month per camera, or $30 per year per camera). Although this Eufy model draws power from your existing doorbell wires, it doesn't work with your existing chime. But it does come with its own wireless plug-in chime, so that isn't really a problem.
Also great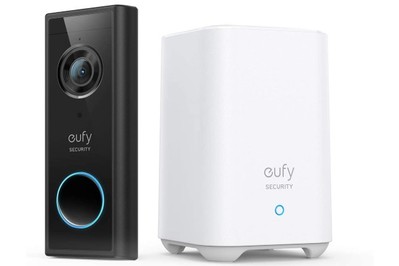 Eufy Security Video Doorbell 2K (Battery-Powered)
Similar to our runner-up model, this doorbell offers a clear 2K image and options for cloud and local storage. However, it doesn't need doorbell wiring because it has a battery that can operate for up to four months on a full charge.
Compatible with: Amazon Alexa, Google Assistant
Just because you don't have doorbell wiring doesn't mean you can't have a video doorbell. We like the Eufy Security Video Doorbell 2K (Battery-Powered) because it combines solid performance with a strong battery that lasts about four months. It can store up to six months' worth of footage on the included base station, or you can opt for Eufy's cloud service, which offers 30 days of video history for $3 per month per camera (or $30 per year per camera). It also delivers a bright 2K image and clear two-way audio. Unlike with its hardwired counterpart, with this model recording is limited to 60-second clips. And, as with many battery-operated models, this one may leave a small gap in between those events if motion continues. However, this model's performance and flexibility make it the best option for people who need to go wire-free.
Upgrade pick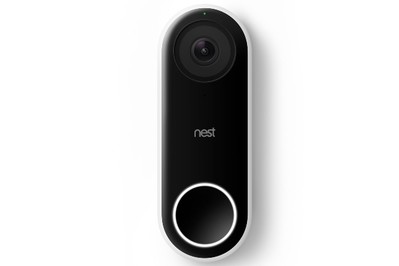 Google Nest Doorbell (Wired)
The Nest offers around-the-clock video recording, with AI-powered motion detection and facial recognition, so it's a great home-security option. For simply watching your door, it's overkill.
Compatible with: Amazon Alexa, Google Assistant, Samsung SmartThings
The Google Nest Doorbell (Wired) is the most advanced DIY smart doorbell camera we've tested. Unlike most smart doorbells, it can record and store video in the cloud 24/7. But it does so at 1600×1200 pixels, which is still crisp but a slightly lower resolution than that of our top two picks. For easy access, Google's cloud service also automatically tags clips that include motion or people, using facial-recognition software to learn and identify over time who is coming and going. This comprehensive approach comes with an elevated price, however: A Nest Aware subscription, which is essential for video recording, costs $6 a month to capture motion events and store them for 30 days; it costs $12 per month to store events for 60 days or to store 24/7 recording for 10 days. So the operating costs are higher than for most doorbell cameras we tested. (If you pay annually, you can save a few bucks, from $12 up to $24 for the top-tier plan.)
Budget pick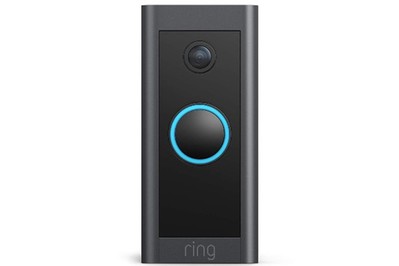 Ring Video Doorbell Wired
This compact doorbell camera doesn't have the same perks as our other picks, but it's cheap and easy to install, and it delivers solid performance.
Compatible with: Amazon Alexa, Works with Ring
The Ring Video Doorbell Wired is the solid sub-$100 doorbell camera we've been waiting for. It's smaller than most Ring doorbells (and cheaper, too), it captures clear 1080p images, and it delivers accurate motion and person alerts. However, it needs to be hardwired, it works only with Amazon Alexa, and it doesn't offer detailed alerts or local storage, as some of our other picks do. And even though it's inexpensive, it requires a Ring Protect Basic plan (which starts at $3 per month or $30 per year) to record motion events.