Our pick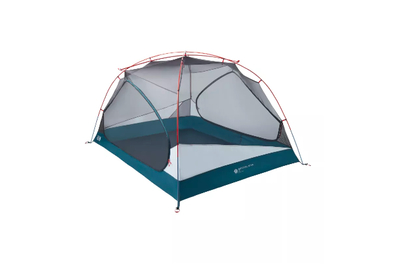 Mountain Hardwear Mineral King 3 Tent
Easy to set up and pack away, the Mineral King 3 is a lightweight, two-door tent with a generous footprint and a sturdy dome shape. It's the perfect choice for three-season multipurpose camping.
The Mountain Hardwear Mineral King 3 Tent is the best car-camping tent choice for couples. It has everything you need for three-season camping, with the bonus of being light enough to double as an occasional backpacking tent. Although it's designed to accommodate three people—hence the "3" in its name—we found that at 42.5 square feet, the tent is more comfortable for two, plus gear and maybe a medium-size dog. A classic polyester dome tent, the Mineral King 3 uses two high-quality pre-bent aluminum poles, which maximize head and shoulder space, making the inside of this tent feel less cramped than other dome tents we tested. Two large doors provide easy entry and exit, and a vestibule—that's camping speak for "mudroom"—outside each door adds significant sheltered storage. The Mineral King 3 has a full rain fly, which you can roll up halfway or completely remove for epic  stargazing. It also comes with a groundsheet (aka footprint) to protect the tent floor.
Our pick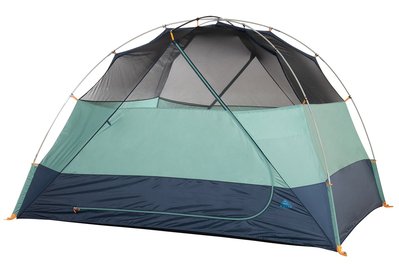 Kelty Wireless 6 Tent
Spacious and easy to pitch, this dome tent also has other features most families need: two large doors, roomy vestibules, and an affordable price. The tradeoffs: bulky fiberglass poles and flimsy stakes.
The Kelty Wireless 6 is a spacious tent that is easy to pitch, and offers solid weather protection and durability for a reasonable price. Like the Mineral King 3, it has a simple, dome-style design that maximizes livability and minimize headaches. With 87 square feet of interior space, plus 28 square feet of vestibule space, the polyester tent fits four adults comfortably, or two adults with two or three children, with plenty of room to store gear and muddy boots. (As its name indicates, it's meant to house six people, but we wouldn't recommend that.) The Wireless 6 has two large doors and a full rain fly. Like most tents we saw in its price range, the Wireless 6 uses cheaper materials: Its poles (two, plus a "brow" pole that supports the two vestibules) are fiberglass and its stakes too light for their size (one bent during testing). Unlike the competition, it is functional, durable, and a joy to inhabit in most weather conditions. (We did notice that the fly took longer to dry than others we tested; don't put it away while it's still damp, or it'll mildew.) It packs into a duffle with a handy shoulder strap, and weighs about 17 pounds—manageable for most people across short distances. As with most six person tents we've seen, the footprint is sold separately ($45).
Runner-up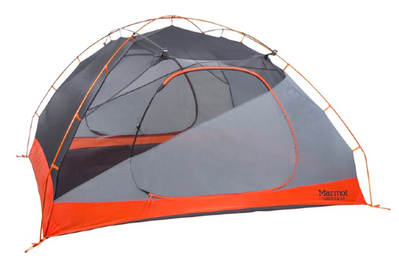 Marmot Tungsten 4-Person Tent
With nearly 60 square feet of floor space plus two large vestibules, the Tungsten 4 is roomier than our top-pick tent for couples. It also costs more, though, and is less forgiving of a careless set-up.
Though the Marmot Tungsten 4-Person Tent lacks the Mineral King 3's adaptable fly, which makes access and protection from the elements such a breeze, the Tungsten 4 provides more living space and equal protection against the elements. A full rain fly with easy-attach color-coded clips covers the tent body and adds two large vestibules. Like the Mineral King 3, the Tungsten has aluminum poles that are connected at the top (for lightning-quick pitching) and pre-bent, which increases the dome tent's headroom. With pentagonal doors and a fly scaffolded by two brow poles—as opposed to the Mineral King 3's single one—this tent provides excellent shielding from multidirectional wind and rain, providing you follow the setup instructions faithfully. The Tungsten 4's poles are bent at a more acute angle and closer to the ground, which, we discovered, can cause the tent to collapse in windy conditions if you don't attach the poles to the fly using the Velcro tabs running under the seams. You can also set up the tent without the fly while retaining some privacy, since the tent body has a high polyester wall on one side. Like the Mineral King 3, this tent comes with a footprint.
Budget pick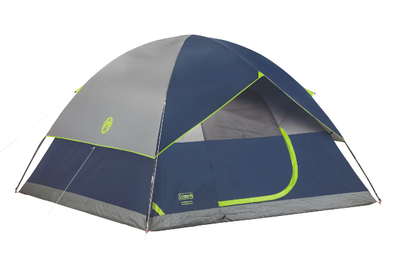 Coleman Sundome 6-Person Tent
Great for backyard overnights, this simple dome-style tent is for anyone who doesn't want to spend more than $150 on a tent but also doesn't want to buy another one next year. It has a partial rain fly, but only one door and no vestibule.
The best-selling Coleman Sundome 6-Person Tent has a footprint larger (100 square feet) than that of our top-pick tent for families, but it felt smaller because it has a lower ceiling, no vestibule, and only one door. Nevertheless, it still comfortably accommodates four people, and it's a roomy choice for two. This no-nonsense tent is intuitive to set up, has mesh on the top halves of two walls, includes a partial rain fly that's easy to put on and stake out, and feels cheery inside and out. (We don't recommend the smaller version of this tent for couples who might actually take it on the road; it was just too flimsy in our tests.) Also note that this tent does not come with its own groundsheet. Coleman says that the tent doesn't need one, probably because its floor is a crinkly (though tough) tarp-like polyethelene, not a taped-seam polyester as in our other picks.
Upgrade pick
The North Face Wawona 6 Tent (2023)
This dome-style tent has nearly vertical walls, high ceilings, and a single vestibule the size of an actual mudroom. It's also straightforward to set up, and made with sturdy, light materials. It's expensive, but you get value for your money.
The North Face Wawona 6 costs $200 more than the Wireless 6, but if you can swing the price, the tent offers a superior combination of livable space, smart design, and durable, high-quality materials (aluminum and heavy-duty polyester and mesh). Its fly extends into a huge front vestibule that can store large items like bikes, or even accommodate a table and chairs. Adults over six feet tall will be able to walk upright inside this tent—which has almost-vertical walls that can easily accommodate beds, cribs, and cots—as well as the vestibule. We also appreciated the tent's construction, which combines good ventilation (the upper part of the canopy walls are mesh) with campsite privacy (those mesh bits are covered by the fly, which reaches only halfway down the tent on the back and sides). And this tent is easy to set up and pack down, especially considering its size. (It comes with a carrying bag equipped with duffle-style handles.) You're unlikely to find a similar-sized tent that matches the Wawona's quality and features for less money—most comparable tents we tested cost much more. As with most six-person tents, the Wawona 6's footprint is sold separately ($65).
Also great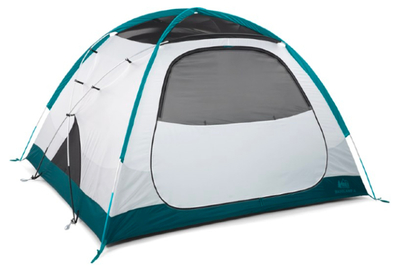 REI Co-op Base Camp 4 Tent
A full rain cover, two vestibules, and an extra-sturdy pole structure make this the best choice for couples who want to get outside in any weather. It's pricey, though, and unless the other couples' tents we recommend, it doesn't include a footprint.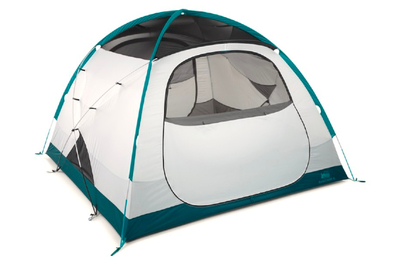 REI Co-op Base Camp 6 Tent
A full rain cover, two vestibules, and an extra-sturdy pole structure make this the best choice for families who want to get outside in any weather. It's the most expensive of our picks, though.
Car campers who plan to brave miserable weather will appreciate the extra strength and protection of the REI Co-op Base Camp 4 Tent. The main bodies of our other picks are structured with two main poles with added support from smaller brow poles. The Base Camp, by contrast, has four full-size aluminum struts woven throughout it, somewhat like a basket, plus an additional brow pole that frames the front entrance and supports the larger of the two vestibules. The Base Camp also offers more privacy compared with our other picks—with or without the rain fly. Our other favorite features are the tent's two wide doors, which you can open halfway from either direction or open fully (you can tuck the doors into "roof pockets" to keep them out of the way), turning the tent into a useful beach tent or sun shade.
Families who regularly pitch their tent in rainy locales need a wind-fighting tent with a good-size vestibule for storing wet shoes and gear, as well as a full rain fly for added weather protection. With almost 45 feet of vestibule space and four stability-enhancing criss-crossing poles, the next size up of REI's Base Camp, the Base Camp 6 Tent, offers the best combination of space and features among the six tents we tested that fit those criteria. A footprint for each model is sold separately ($60 and $65).