Our pick
Lutron Serena Shades
Responsive, quiet, and of excellent quality, these custom-made shades can be controlled using automated smart-home controls like Schedules, geofencing, and Scenes. They are also the most widely compatible with smart-home platforms.
Compatibility: Amazon Alexa, Google Home, Apple HomeKit, Samsung SmartThings
Lutron's Serena Shades are the best self-install smart shades we tested. They're easy to install yourself, simple to set up, battery-powered, and custom-made to fit your windows. They work with every major smart-home system and all of the voice assistants, when paired with Lutron's Caséta Wireless Smart Bridge (a small device that plugs into your Wi-Fi router and lets you control your devices remotely; it's the same one that connects Lutron's Caséta smart light switches). The Serena Shades are expensive—around three times the price of our budget pick, IKEA's Fyrtur. But if you want the nicest-looking, smartest window coverings that you can order and install yourself, Lutron Serena Shades are the best choice.
Runner-up
SmarterHome MySmartRollerShades (formerly Tilt)
Slightly more affordable and solar-powered, SmarterHome's MySmartRollerShades (formerly Tilt) are custom-made to fit your window. And they offer scheduling and built-in routines in a nice app that doesn't require any additional smart-home devices.
Compatibility: Amazon Alexa, Samsung SmartThings
If you don't mind a more-modest selection of fabrics and styles and don't need deep smart-home integration, the SmarterHome's MySmartRollerShades (formerly Tilt) are a good option. They are easy to install yourself and to control with the app (if noticeably slower than our top pick), and they come in a decent, albeit limited, selection of colors and styles. The simple ordering process is a refreshing change: Every shade is the same price, no matter the size or style. These shades run on a rechargeable battery that connects to an included solar panel. But there's no remote control, aside from the app. Also, the hub for smart-home control with Amazon Alexa and Samsung SmartThings costs $109—and it is out of stock until 2022.
Also great
Graber Motorized Shades
Graber is priced like Lutron, but it offers more style, customization, and compatibility with Z-Wave wireless.
Compatibility: Amazon Alexa, Google Home
If you (or someone in your home) has a specific style and design in mind when it comes to window coverings, you'll want to look at Graber Motorized Shades. The shades use Graber's new Z-Wave wireless motors and gateway device (which costs up to $200; you could instead pair directly to an existing Z-Wave hub you may have, including SmartThings). We love the online selection process, which guides you through styles and designs to best suit your needs. And the new Graber VirtualCord Motorization app works well for scheduling, creating Scenes, and adding voice control via Amazon Alexa or Google Assistant through Google Home (not Siri/HomeKit). There are also multiple options for power, including a rechargeable battery pack that tucks up behind the shade, plus a number of remote-control options (again, with a hefty price tag). Self-installation is an option, but it's not as straightforward as with our other picks.
Budget pick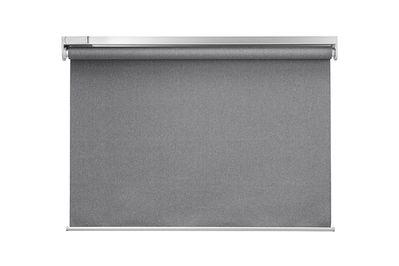 IKEA Fyrtur
These shades come in just one color and in fixed sizes. But they're a fraction of the cost of our other picks.
Compatibility: Amazon Alexa, Apple HomeKit, Google Home
If your window openings fit one of the eight available sizes of IKEA's Fyrtur shades (ours didn't), and you like the industrial exposed hardware and gray blackout fabric look (we do!), then these inexpensive smart shades are a great, budget-friendly option. The shades can be controlled using Apple HomeKit, Amazon Alexa, and Google Home, as long as you buy IKEA's $70 Dirigera internet gateway (a small device that wirelessly connects your shades and is plugged into your router). The Fyrtur shades are well made, and in our testing they worked reliably. And the removable, rechargeable battery lasted six months before needing to be recharged. That said, the included remote is a bit finicky, and installation and setup can be just as frustrating as it is when you're putting together an IKEA cabinet. But considering the reasonable price for these shades, we think it's hard to complain. If the installation challenge is daunting, or you're considering the YouTube videos that show you how to "hack" Fytur shades so they fit your window, we'd say skip the headache—there are better options.
Our pick
Lutron Serena Smart Wood Blinds
These blinds are responsive, quiet, custom-sized to fit your windows, and available in four painted and four stained finishes. And they can be automated to tilt based on the position of the sun (requires a Lutron Bridge).
Compatibility: Amazon Alexa, Google Home
The Lutron Serena Smart Wood Blinds have the best smart-home integrations and most innovative features of any of the smart blinds we considered or tested. But they're also the most expensive, starting at $599. They are custom-made to order and available in eight color options. And they work with Lutron's smart-home ecosystem for control with the Lutron app, which also enables integration with Amazon Alexa or Google Home (strangely, there's no HomeKit or SmartThings compatibility, as there is with Serena Shades). An excellent Natural Light Optimization feature tilts the blinds automatically as the sun moves throughout the day, ensuring your room has balanced light while minimizing glare. Serena blinds can also be set to close and open automatically whenever you leave or arrive home. And they can be configured on a Schedule or included in Scenes (a series of settings changes among one or more devices) with other Lutron devices. Although the blinds can be tilted on command, you can't use a controller to raise or lower them—you have to manually push them up or pull them down, as you would with other modern blinds.
Budget pick
SmarterHome MySmartBlinds
These blinds are a flat $419 and don't require a smart hub or bridge. However, they come in just two colors (white and walnut). And they have few actual smart features, other than scheduling and the ability to close automatically when it's hot out.
Compatibility: Amazon Alexa, Google Assistant (not Google Home)
If you hope to cover a number of large windows with smart blinds, SmarterHome's MySmartBlinds may make that more approachable budget-wise. They can be set on Schedules—without the need to buy a smart hub—and can be configured to react to temperature changes and adjust accordingly (Lutron Serena Blinds can do this, but only if you buy an additional temperature sensor). To our eyes, MySmartBlinds aren't as attractive as Lutron's options (due to an unsightly wand and cord). They're also much louder and work with fewer smart-home systems. And if you want to use Alexa voice control or be able to remotely adjust them when you aren't home, you'll also need to buy SmarterHome's optional Bridge—which is out of stock until 2022. Google Assistant integration is technically available as well, but in our tests it didn't work well, and it isn't compatible with the Google Home app. As with the Lutron Serena Blinds, with MySmartBlinds you can control the tilt of the slats. But the blinds themselves aren't motorized, so to raise or lower them, you have to manually lift or pull down.