Our pick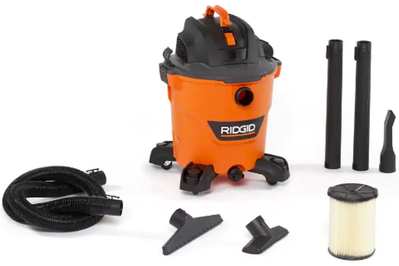 Ridgid 12-Gallon NXT Wet/Dry Vac HD1200
The Ridgid HD1200 is capable, powerful, and well reviewed. For the size, this vac is easy to lug around, and it comes with a great selection of attachments.
This wet/dry vac (aka "shop vac") has a large capacity and a powerful motor for sucking up debris. And with its four casters, well-positioned handle, and manageable weight, this model isn't that difficult to drag through a basement or clunk up a flight of stairs. The Ridgid 12-Gallon NXT Wet/Dry Vac HD1200 comes with two wand extensions and three nozzles (one for general use, another for wet spills, and a small one for detail work). They all store on the vac and out of the way—a smarter design than that of many competitors' accessory caddies. This Ridgid vac is regularly sold on the shelves of Home Depot (where it has thousands of mostly five-star online reviews). And extra filters, hoses, and nozzles are easy to get in an emergency, as long as you have a Home Depot nearby. The 12-gallon Ridgid is the vac I saw most on job sites and used the most often throughout a 10-year construction career, and it's the one I've owned at home for years. Ridgid gives the vac minor upgrades and tweaks every few years, so the models have changed, but the core positives of the vac have always remained constant.
Runner-up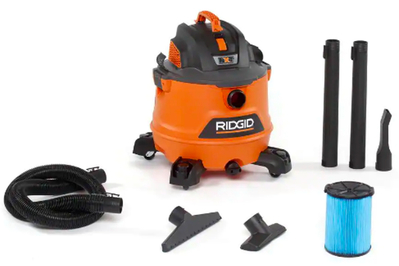 Ridgid 14-Gallon NXT Wet/Dry Vac HD1400
This is a more powerful version of our pick, with a slightly larger capacity and motor. It's widely recommended, but it costs more and is noticeably heavier than Ridgid's 12-gallon model.
If you can't find our pick or you just want a more powerful option, we also like the Ridgid 14-Gallon NXT Wet/Dry Vac HD1400. This vacuum has more capacity and a more powerful motor than the 12-gallon HD1200, but the identical hose should suck up the same debris. The HD1400 is not our pick because it weighs about 21 pounds (versus the HD1200's 17 pounds), so it's a little heavier and bulkier, especially on stairs (and remember, that's the vac's weight when empty, not including all of the debris you suck into it). The HD1400 is also more expensive. User reviews for this model, like those for our pick, are extremely positive.
Also great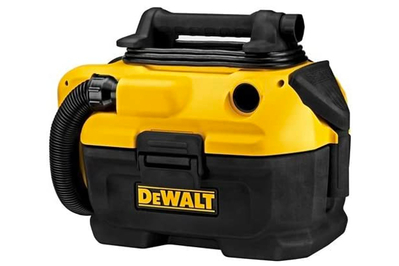 If you're looking for something smaller and more portable, we like the DeWalt DCV581H 20V 2-Gallon Cordless/Corded Wet/Dry Vac. This is a much smaller vacuum than the Ridgid models (it doesn't even have wheels), and it doesn't match their capabilities on larger areas. But it's a real champ with little messes around the garage, in the house, or in the basement. Because there's also a cordless option and this vac is so light, you won't have a problem using it in a crawl space, a tight attic, or an outbuilding that needs a little tidying, like a potting shed. The capabilities of the DeWalt are limited by the small motor and hose diameter. We had no problem sucking up wood shavings, drywall dust, and little bits of this and that, but this vac couldn't suck up anything heavier, like a nail or a screw. There was also the risk of larger items getting caught in the narrow hose. The 36-minute runtime really impressed us, though, and it was far longer than that of any other cordless options we tested. This vac makes the most sense if you already have some other tools in the DeWalt 20-volt line up. If you're just starting out, however, you'll need to get the kit that comes with the battery and charger; this raises the cost quite a bit and, we think, really compromises the value of this tool. But the good news is that this vac also works with an outlet, so it's still an option, even if you may or may not be adding other DeWalt tools in the future.
Also great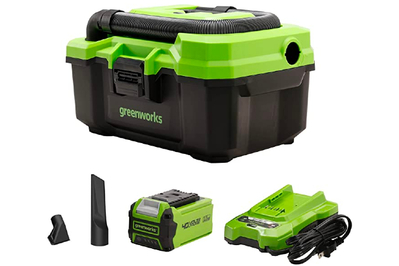 Another cordless option we like is the Greenworks 40V 3-Gallon Wet/Dry Cordless Vac. Compared with the DeWalt vac, the Greenworks vac has a larger capability—3 gallons versus 2 gallons—and stronger suction. But it lacks a corded option, so the 15 minutes of run time is all you have before a recharge. Because this is a smaller vac and really designed for minor messes, we found the 15 minutes to be plenty of time for any single mess we dealt with. The Greenworks vac comes with two nozzles—one for general use and a crevasse tool—which both tuck into an onboard storage compartment. We also like that the hose, when stretched out, becomes translucent, so it's easy to see where a blockage is. Through the course of testing and using the vacs around the house during a small renovation, this became our go-to vac, even though it does sometimes have a high-pitched whine. The Greenworks vac normally costs around $200, which we think is a fine price, given that it comes with a battery and charger.