After more than two years of intermittent lockdowns and restrictions, live events are back—but so are security policies that may be more prohibitive than you remember. As I learned the hard way, bag regulations (some of them spurred on by the pandemic) could mean that your usual carryall or purse might not make it past the gate. But don't worry: You can just bring a running belt instead.
Today's venue rules: Clear or tiny bags only
What I thought was a rather modest 11-by-8-inch purse was recently turned away on a visit to Bethel Woods Center for the Arts in Bethel, New York, where size limits are 8.5 by 5.5 inches. (I was redirected to a bag check at the far end of the security line; by the time I finally got to my seat, I'd missed the opening act—who I was there to see, natch.) In order to "reduce staff contact with guest belongings," the limitations are often stricter at Live Nation Entertainment venues, where attendees may only carry "clutch bags" measuring 6.5 by 4.5 inches maximum, smaller than the smallest fanny pack we recommend.
Roomier bags are typically permitted at most venues so long as they're see-through, but you're not alone if buying a clear tote or backpack feels like throwing away money on a cheap piece of plastic. As our supervising editor of style coverage, Catherine Kast, puts it, "They're ugly, they show off all your personal stuff, and they're only designed for one use, really."
Wanting to bliss out to my favorite bands without stuff jangling in (and possibly falling out of) my pockets, I hit upon an inexpensive alternative: the running belt.
A running belt fits all the concert essentials
The truth is, I often brought superfluous stuff to shows, then had to spend energy keeping track of it all. At the three concerts I've attended since my purse drama, a running belt has helped me sail past security and still fit my pared-down list of must-haves: ID, a charged phone, a credit card, cash, keys, pain relievers, earplugs (such as the Loop Experience Earplugs we recommend), and a portable phone charger (the TravelCard Charger we recommend is the size of a credit card and requires no extra cables). For outdoor events, senior editor Christine Ryan, who oversees our travel coverage, suggests adding travel-size sunscreen and hand sanitizer, as well as first aid like bug-repellent wipes and Band-Aids. (Obviously, this list might not work for everyone, particularly those with specific medical needs, so make adjustments accordingly.)
Not only does my running belt stay put against my midsection as any well-designed running belt should, but the resulting silhouette is virtually undetectable beneath a loose-fitting shirt. I'm sticking with the running belt from now on, even if a venue allows bigger bags.
The Nathan Adjustable-Fit Zipster has three side-by-side pouches that fit an iPhone XS, keys, ID, a credit card, cash, two Band-Aids, earplugs, pain medicine, a tube of lip gloss, and a small bottle of hand sanitizer, as tested by supervising editor and running-belt guide co-author Ingrid Skjong. Overall, Ingrid says the fully packed belt "felt pretty comfortable and not too overloaded." Photo: Ingrid Skjong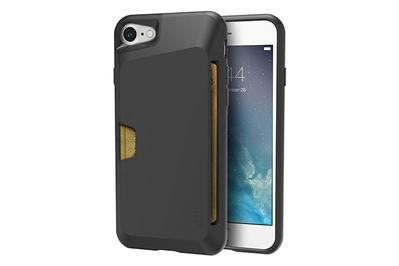 Smartish Wallet Slayer Vol. 1
If you're looking to ditch your wallet, this case holds a few cards—and can even keep a single card secure—without sacrificing a nice design.
Tune Belt Sport Armband
This affordable and reliable armband provides a better combination of comfort, stability, and ease of use than any other armband we tested.
The only potential issue with a running belt: If you keep your phone in the same slim pouch as your other items then try to pull it out, you may cause things like cards and cash to fly out as well. You can solve this by keeping your phone in a separate pocket where it's unlikely to fall out (we hear cargo pants are back), or you can use a wallet phone case to squirrel away your credit card, ID, and cash while adding minimal girth to your phone. Our top pick for iPhones, the Smartish Wallet Slayer Vol. 1, fits up to three cards plus cash, and in our testing, the case's contents remained intact even after "aggressively shaking" the phone.
If you're still wary of pockets (or you're wearing an outfit that doesn't have any), consider stashing your phone in a second piece of fitness gear: a running armband. Although it may feel a little goofy to wear, our iPhone running armband pick, the Tune Belt Sport Armband, accommodates phones of several sizes and doesn't bounce around. What you might forsake in cool points, you'll make up for in never losing your stuff again.
This article was edited by Mark Smirniotis and Annemarie Conte.