Our pick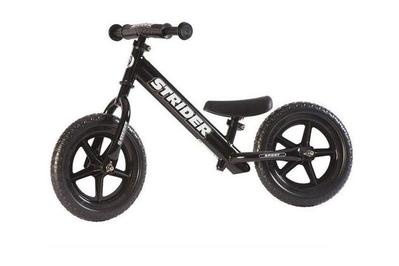 The Strider 12 Sport is strong, lightweight, a cinch to assemble, and the most adjustable option for kids age 18 months to 5 years.
The Strider 12 Sport Balance Bike hides prodigious design beneath a veneer of simplicity. It is the most popular balance bike on the market, and we understand why: easy assembly, a wide range of size adjustability, light weight (6.7 pounds), and a low, 8-inch stand-over height for easier balance. Of all of the bikes here, its design feels the most, well, mini-me-friendly with kid-narrow handlebars and toddler-size grips. Its seat post has the widest height adjustability range of any bike we tested (9 inches!). Its simple design includes an ultra-light, maintenance-free nylon bushing headset (the pivot point that lets the handlebar turn), very lightweight plastic wheels, pleasantly grippy foam rubber tires that never need inflating, and footrests, which is a nice feature when a kid starts to try tricks like bunny hops, or just want to rest their feet on a gradual downhill. We also liked the full-length handlebar pad, for when bunny hops go awry. The 12 Sport comes brake-free, but Strider offers an add-on foot brake for hilly terrain.
Runner-up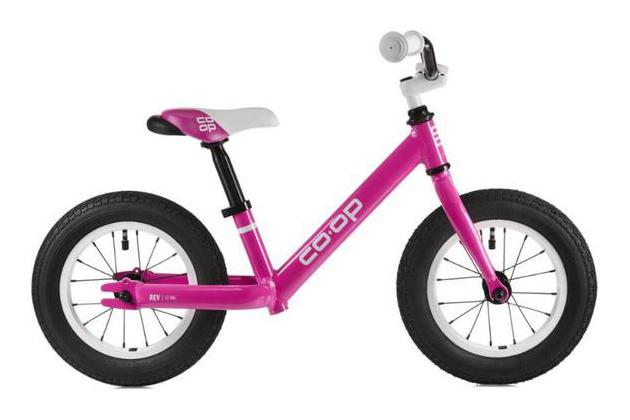 This aluminum-framed balance bike costs more than our top pick and is less adjustable, but it comes with shock-absorbing and indoor-friendly rubber air-filled tires.
If our top pick is sold out, or if you want the cushioning and traction of rubber tires, particularly for indoor riding, REI's Co-op Cycles REV 12 Kids' Balance Bike is an excellent choice. While its air tires, alloy wheels, and standard ball-bearing headset make it, at 9 pounds, heavier than the Strider Sport, the REV 12 also features thoughtful kid-specific design elements like a low top tube (same as the Strider 12 Sport at 8 inches) and a seat height that is adjustable by 5 inches, which while still good is 4 inches fewer than the Strider. The slightly spendier Co-op lacks some size adjustability compared with the Strider 12 Sport, particularly at the handlebars, but some of our testers preferred the stability of slightly wider handlebars and the speed they could generate with its fat, rubber tires. The REV 12 also gets high marks for a really easy assembly. The clean welds, flawless paint job, and precisely fitted componentry create a bike as high in quality as REI's famous customer support.
Budget pick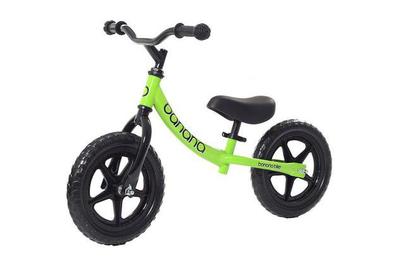 Though not as polished as the Strider or Co-op, this lightweight, low-slung bike will get most kids up and happily gliding along—and won't bust the budget.
Our experts agreed: Spend less than $110 on a balance bike, and you'll have to make some trade-offs. While the steel-framed Banana Bike LT offers what we consider two of the most important features for beginning kids—low stand-over height and light weight—at a very affordable price, it took longer than 45 minutes to get it truly dialed out of the box. But, the frame is well-engineered, and the range of height adjustability for the handlebars is substantial and adequate for the seat (about 3 inches). The Banana's foam tires work fine on paved and carpeted surfaces, but were quite slippy on kitchen linoleum and hardwood floors (unlike our top pick and runner-up). I needed to loosen its wheels with a pair of wrenches (which is a bummer, as the bike comes with only one wrench) because their spin was slow, while its bike-standard ball bearing headset arrived over-tightened, making turns of the handlebar notchy. The bike is nonetheless handsome and it performs well—once mom or dad (or a local bike shop) gets it good to roll.
Upgrade pick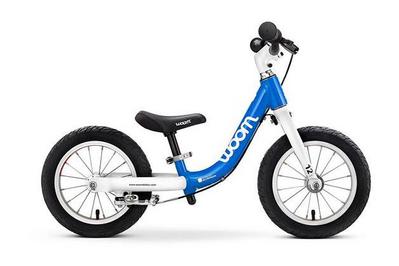 Agile, simple to assemble, and sporting a useful rear hand brake, this is the balance bike for bike enthusiast parents who want their kid to have a pro-level tyke bike.
Balance bikes (also known as push bikes) aren't for everyone. But we found, after polling numerous parents, that the more athletic your child is, the more likely they will take to them. The Woom 1 doesn't compromise on anything—simple assembly, solid parts, ideal geometry—so if money is secondary and bike enthusiasm is primary for you, this is the bike for kids whose clothing size is between 2T and 4T. The Woom is designed in Europe (the motherland of most good bike culture), built in Cambodia, and dialed in with precision at Woom's assembly facility in Austin, Texas, which gives the brand high quality control. Weighing just under 8 pounds, the Woom 1 features an ideal upright riding position, a very low 7-inch top tube height (great for shorter kids), and 5 inches of seat adjustability, starting on the lower end at 10¾ inches (most start around 12 inches). Recessed hardware at the wheels makes it impossible for kids' legs to snag, while a removable rubber O-ring creates a flexible steering limiter to prevent front-wheel jackknifes. The bike also teaches hand braking—the second step in learning to ride a bike, after balance—with its built-for-little-hands levers. Brakes can be a hassle to adjust for the uninitiated, but the Woom's needed no adjustments, just like the rest of the bike.
Also great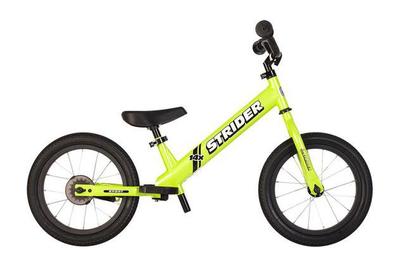 Slightly bigger with easy-to-install pedals, the Strider 14x Sport can also be used as your kid's first pedal bike, making this an all-in-one solid investment.
The Strider 14x Sport represents a tiny segment of balance bikes that can be outfitted with a sprocket assembly that quickly converts them into solid, no-compromises pedal bikes. While we loved both the Strider 14x Sport and its nearest competition, the LittleBig 3-in-1, the Strider is lower in price and has a wider range of size adjustability. Geometry-wise, the 14x, which has 14-inch wheels (unlike the rest of the balance bikes we tested, which had 12-inch wheels), the Sport is meant for kids in their mid to high 3s up to age 7. It features an appropriately low step-in height of 10 inches; a long, stable 28½-inch wheelbase; and a remarkable seat-height range of 15 to 22 inches. Our favorite feature: the smart half-width pedals that let kids put their feet down to stop without the possibility of being whacked by the pedal, and won't scrape during sharp cornering. Pair all that with a handlebar stem that can be raised nearly 4 inches, and you have an incredibly versatile bike, size-wise.