Our pick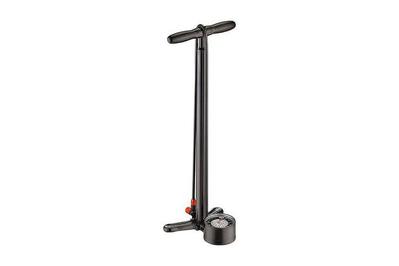 Lezyne Classic Floor Drive
This mostly metal pump is a smart buy, from its extra-large pressure gauge to its recently redesigned screw-on pump head.
The most important thing a pump can do is not frustrate you. Our pick, the Lezyne Classic Floor Drive, excels in this task due to the design of its pump head, which you screw securely—rather than wedge—onto your valve. It combines an L-shaped head that's refreshingly easy to fit between spokes with a removable and reversible chuck (one end fits Schrader tire valves; the other, Presta valves). Once you've screwed the pump head onto your tire's valve, the Classic Floor Drive will never, ever release the valve until you want it to. In addition, its sturdy construction, extra-large pressure gauge, extra-long hose, and varnished wooden handle make it simple, and even pleasing, to use.
Budget pick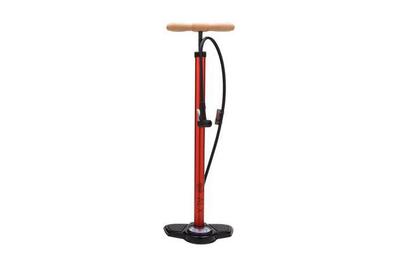 Planet Bike ALX 2
Though not the cheapest pump we tested, the difference in quality between a $30 pump and this one is astounding. The drawbacks: its plastic, wedge-on pump head and very short hose.
With more high-quality parts than anything comparably priced, the Planet Bike ALX 2 is, we believe, the best choice for someone who doesn't ride every day or every week. It has a steel base and barrel—in fact, the only plastic part is the pump head, which you push onto the valve and lock with a lever. That head is one reason this pump isn't our top pick; the pump's very short hose is another. That said, the ALX 2 inflated tires faster than almost every pump we looked at, including the Lezyne Classic Floor Drive and the pricey Specialized Air Tool Pro. Our testers also rated it highly in both steadiness and usability—the wide wooden handle really helps with that. In addition, this is the only pump we found that comes with a limited lifetime warranty, which is much better than the industry-standard two years.
Upgrade pick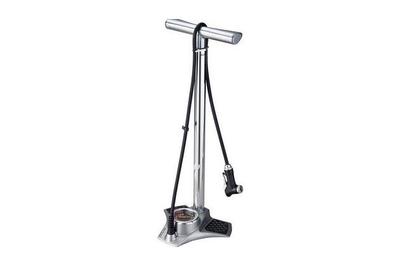 Specialized Air Tool Pro
Although this pump is pricey, its comfortable, generously sized handle, ultra-visible gauge, and extremely stable base make it the pump to get if you'll be using it a lot.
The Specialized Air Tool Pro was a tester favorite. It's twice the price, but it doesn't have twice the features of the Lezyne Classic, and that's why it isn't our top pick. But it's so stable and easy to use—with a generously wide handle and sturdy base—that we think someone who rides a lot and has to use a pump often would be enamored with the upgrade in performance.
Also great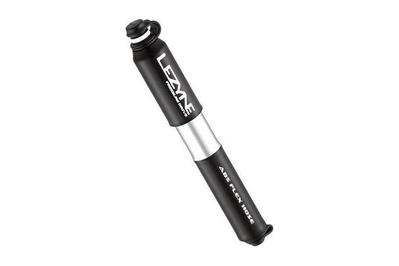 Lezyne Pressure Drive
Versatile and compact, this pump will fill the flat-fixing needs of any commuter while on the road.
Buying Options
*At the time of publishing, the price was $55.
The Lezyne Pressure Drive is a smartly designed handheld bike pump capable of filling the types of tires most frequently used by recreational riders. In fact, it works better with different tire sizes than the other portable pumps we tested. This pump screws securely (via a detachable hose) to inner-tube valves, and its all-aluminum body has a smooth, efficient stroke. It's small enough to carry in a jersey pocket but also comes with a bracket that you can attach to your frame. Like all of our picks, it works with both Presta and Schrader valves, the two standard kinds of bike-tube valves in the US.