Our pick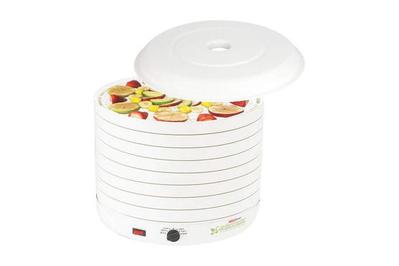 This expandable dehydrator dries food quickly and evenly, without your needing to monitor progress or rearrange trays.
The Nesco FD-1018A Gardenmaster Dehydrator was the best of all the dehydrators we tested at drying apples, beef jerky, onions, garlic, and fruit puree evenly. It also was the only dehydrator that didn't require us to obsessively supervise or shuffle trays throughout the process. The eight-tray FD-1018A Gardenmaster has 8 square feet of usable drying area, and it's expandable up to 30 trays. It comes with eight fine-mesh inserts that help keep small bits from falling through the cracks, and it's the only dehydrator we found that includes plastic fruit-roll drying sheets for every tray. The FD-1018A Gardenmaster doesn't have a timer or automatic shutoff, but we found that this feature isn't all that useful, since you'll probably want to check your food for doneness before turning off the machine. But if you think you need these features, consider our other pick, the Samson Silent 6-Tray Dehydrator.
Also great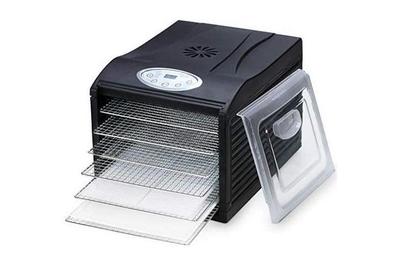 This dehydrator features automatic shutoff and can easily accommodate larger items like yogurt or flowers. But you need to shuffle the trays midway through drying.
In every test, the Samson Silent 6-Tray Dehydrator consistently placed second, behind the FD-1018A Gardenmaster, in terms of even drying. But aside from our top pick, it performed far better than the rest of the dehydrators we tested and required the least amount of tray reshuffling. This Samson dehydrator also has features the Nesco model lacks, such as a digital control panel, a timer, dishwasher-safe stainless steel racks, and automatic shutoff. And unlike our top pick, it allows you to easily remove trays to make room for projects that involve bigger items—like proofing bread, drying flowers, or making yogurt. But this 400-watt Samson dehydrator is bulkier and takes 25 percent longer to dehydrate food than the 1,000-watt FD-1018A Gardenmaster.