Our pick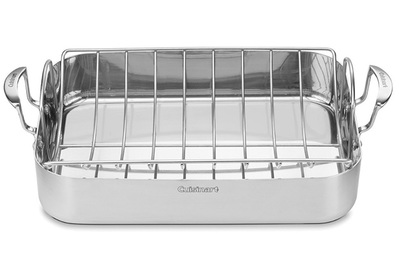 The Cuisinart 16″ Roasting Pan With Rack (MCP117-16BR) is our pick for the fourth year running because it can handle a variety of cooking tasks with ease. Its flat cooking surface and tri-ply, fully clad construction conducts heat evenly for hassle-free searing, deglazing, and gravy-making on the stove. It's big and sturdy enough to accommodate a 20-pound turkey, a large roast, two whole chickens, or a complete one-pan meal. Large, riveted handles provide a secure grip, even with the bulkiest kitchen towels and oven mitts.
Runner-up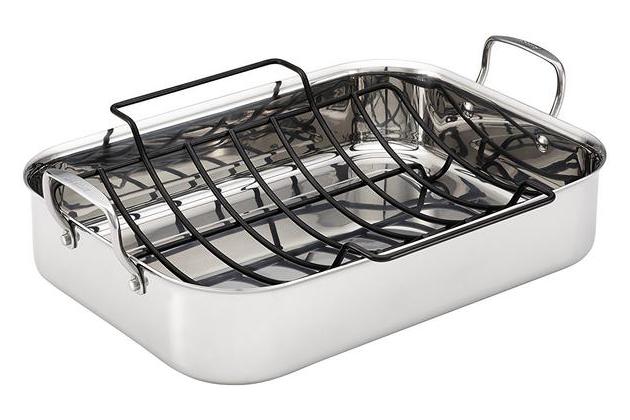 If our top pick sells out, we think the Anolon Tri-ply Clad Roaster with Nonstick Rack is a good choice for a similar price. This fully clad tri-ply roasting pan is spacious and sturdy, and has big, riveted handles. But the channel around the edge of the pan makes it harder to use on the stovetop compared with our other tri-ply clad picks.
Budget pick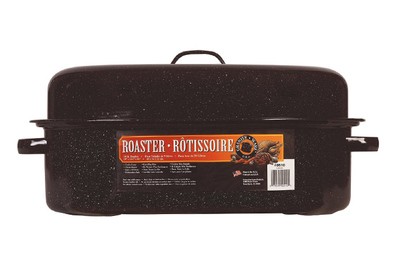 A solid roasting pan is good for a whole lot more than simply roasting a turkey once a year. But if you do need one only once a year, the Granite Ware 19-inch Covered Oval Roaster (F0510) is a serviceable, modestly priced alternative (and it also fits in smaller ovens). We just wouldn't use this thin steel roaster on the stovetop to make gravy and sear meat. The Granite Ware roaster costs a third of the price of the Cuisinart for a third of the capabilities—only a good buy if you're just roasting turkey and don't plan on using it for other things.
Upgrade pick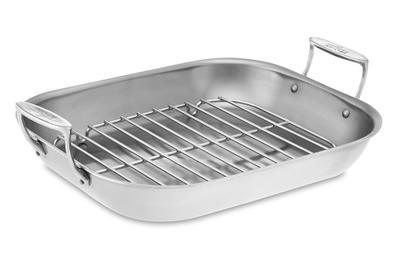 The expensive All-Clad Flared Roaster is our upgrade pick because it was the top performer in our tests, both in the oven and on the stovetop. Its flared sides dispersed heat evenly throughout the pan, giving us a turkey with the most amount of crisp, golden skin. All-Clad showed the best heat distribution on the stovetop, searing chicken pieces consistently across the pan. If you're a frequent roaster, or if you don't mind paying more for the finest quality, the flared All-Clad is hard to beat.