Our pick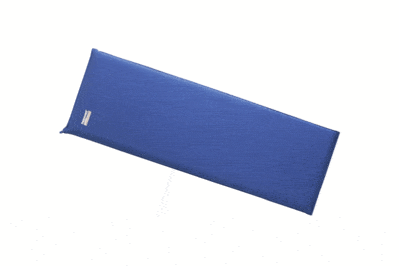 Therm-a-Rest LuxuryMap Sleeping Pad
The 3-inch-thick, notably warm Therm-a-Rest LuxuryMap is as comfortable as any pad we tested. And it's easier to inflate, deflate, roll, and store than any other car-camping pad.
The self-inflating Therm-a-Rest LuxuryMap Sleeping Pad has long been a favorite with our testers, and it has stood the test of time—five years of car-camping trips, to be more specific. This 3-inch-thick pad has extra foam, with an air pocket on top (placed exactly where the body exerts more pressure; this increases comfort and helps prevent the pad from bottoming out overnight, a common problem). Side-sleepers, back-sleepers, and stomach-sleepers alike found this pad to be comfortable and supportive. And with an R-value of 6.8 (R-value is a measure of how well the pad insulates), the LuxuryMap is more than twice as warm as the top-end backpacking pads we also reviewed for this guide. In our tests, the LuxuryMap's face fabric seemed to reject lint and dirt better than fabric on rival pads. And its carry bag was refreshingly easy to stuff and tote around (not often the case with larger sleeping pads). The only downside: This pad is heavy. The regular LuxuryMap (20 by 72 inches) weighs 4 pounds (the pad is also available in large and extra-large, both 77 inches long, and 25 or 30 inches wide, respectively). But as long as you're parked close to your campsite, this shouldn't bother you.
Our pick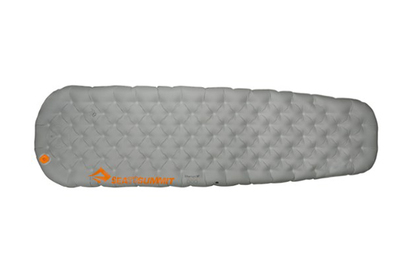 If you're looking for a sleeping pad that's supportive yet still light enough to carry—for backpacking trips in the spring, summer, and fall—the 4-inch-thick Sea to Summit Ether Light XT Insulated Air Sleeping Mat is a solid choice. Its mummy shape is wider in the hip area (21½ inches) than most of its competitors, including our former backpacking pick, the Therm-a-Rest NeoAir XLite. This means you're less likely to roll off of it overnight and end up cold and aching come morning. The quilted air-pocket design also keeps the pad from slipping on the ground, and it provides added support for side-sleepers' hips and shoulders. The regular pad is 72 inches long; if you need one that's longer or shorter, you can order it in small (66 inches) or large (78 inches). The pad's 3.2 R-value is similar to that of competitors (although not as insulating from the cold ground as the LuxuryMap). One downside: Though it's less than half the weight of our car-camping pick, the Ether Light XT is about 5 ounces heavier than some of the other backpacking pads we tested, and it's slightly harder to pack down. If you're looking for a very light pad, you may prefer the Therm-a-Rest NeoAir XLite.
Also great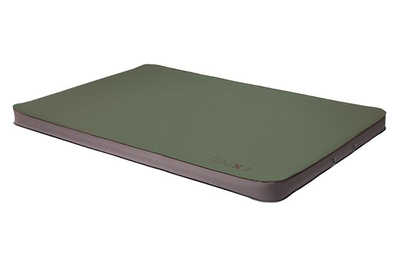 Exped MegaMat Duo 10 M
This sleeping pad isn't small, and it isn't light. But it's the most comfortable pad in the game. If you're driving up to your campsite, the MegaMat Duo is wilderness luxury.
Here's the thing: The Exped MegaMat Duo 10 M is not easy to pack. It's not easy to inflate. And it's not easy to carry around. But it is absolutely the most comfortable double sleeping pad you can buy—so comfortable, in fact, that many of our testers found themselves using this pad for guests in their home, instead of a typical air mattress. The MegaMat Duo is 3.9 inches thick and weighs about 7½ pounds (the LW+ model is almost 10 pounds), and it has an R-value of 8.1, making it the largest and warmest option we tested. The pad is made with foam and has additional air pouches throughout, and the face fabric is soft and durable. Over the course of two years and dozens of camping trips with a small child, our testers never observed damage to the MegaMat Duo. There's enough padding to support side-sleepers' hips and shoulders; stomach- and back-sleepers appreciated the bed's lower-back support. Also, the foam helps campers avoid the popcorn effect typical of an air bed (when air transfer from one person's movement pops the other person up in the air). The MegaMat Duo also stays firmly inflated for several days, but we do recommend a pre-sleep top-off of air (using an air pump like the Exped Widget, not the included self-inflate valve or pump). If you're headed out on a car-camping trip where weight isn't an issue, this is the couple's pad to choose.
Budget pick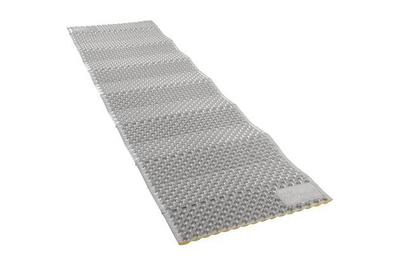 Therm-a-Rest Z Lite Sol
Basic but absolutely reliable, our budget pick works for backpackers, car campers, and kids.
If cost or durability is a top concern for you, the Therm-a-Rest Z Lite Sol is the standout choice. This lightweight (14 ounces) pad is warm, durable, and inexpensive. It's no surprise that this pick is not nearly as comfortable as any of our other choices, since it's made with basic foam and is the thinnest of the bunch (3.4 inches). Still, the pad has an R-value of 2.6, which is impressively warm for how thin it is. And if you ever decide to upgrade, the Z Lite Sol becomes a go-to backup or loaner pad that you can expect to pack for decades to come.
Also great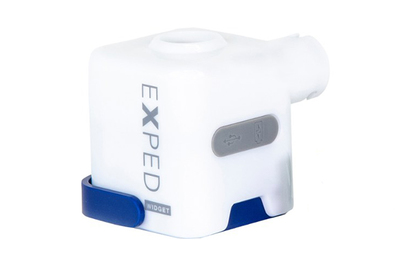 Exped Widget Pump
Instead of blowing up a sleeping pad with a pump bag or your own breath, consider using an air pump like the Exped Widget, which is lightweight and powerful.
Buying Options
*At the time of publishing, the price was $50.
Many sleeping pads have to be inflated with your breath (as you'd inflate a balloon) or with a sack (called a pump bag). But there's another option: Invest in a lightweight air pump. The Exped Widget Pump isn't directly compatible with non-Exped beds—its seal works best with Exped pads. Yet the air flow is so powerful that we found it still works on other pads even without a direct seal, speeding up the inflation process tenfold. We were able to inflate a single airbed in about 30 seconds, and this pump added just 7 ounces to our pack weight. You do need to charge the pump before a backpacking trip by using a USB.