Until recently, my top drawer was stuffed with ill-fitting, outfit-spoiling underwear—and I know I'm not the only one. The woes that plague women's underthings are so numerous, in fact, that a whole vocabulary has sprung up to describe them: muffin top, camel toe, whale tail, wedgie, and of course, visible panty line (aka VPL). I've suffered all those afflictions and more in my search for the perfect pair. But at long last (and with a little help from my friends), I've found them: the Natori Bliss French Cut Briefs. They're chic, indulgently comfy, and the first ones I reach for when the laundry is freshly done. It's no wonder they're one of our picks in our guide to the best women's underwear.
Wearing this underwear is a fittingly blissful experience. The Natori briefs are made of sleek pima cotton (a soft long-fiber version of the material, the Champagne of cottons!), which feels breathable, lightweight, and luxuriously soft. Thanks to being 6% Lycra, they're also plenty stretchy, so they'll maintain their smooth, body-skimming fit no matter how much I indulge this holiday season. The gusset—that's underwear-insider-speak for "crotch"—is generously wide, offering ample protection against the indignities of a frontal wedgie. And the briefs' nearly navel-grazing rise makes them more comfortable to wear than a hipster or bikini cut when my lower half is encased, as it often is, in high-waisted denim.
And good news: They're on sale in a handful of colors.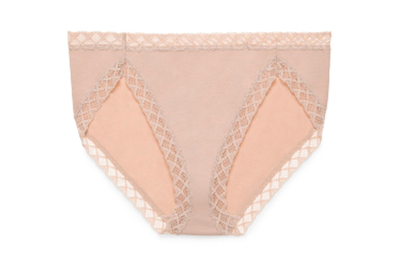 Natori Bliss French Cut Brief
The Natori Bliss pair is a sexy yet comfy take on the everyday brief, with a high-cut leg and a high waist. Best of all, the stretchy, body-skimming style doesn't pinch, bunch, or show under clothing.
With their high rise and comprehensive bum coverage, I worried that the Natori briefs would look dowdy. But these are not your average multipack granny panties—they feel (dare I say it?) a little bit sexy. Subtle details make all the difference. Their high cut visually elongates my legs, showing enough skin to balance out the conservatively styled derriere. Delicate lace trim adds a touch of whimsy and feels slightly coquettish when paired with the piqued, French-cut leg openings.
The generous stretchiness of the trim also helps the Natori briefs lie flat, preventing the pinching, rolling, and bunching that have condemned so many of my old pairs to the recycling heap. Although the company advises that you hand-wash the underwear, I've been tossing mine in the machine—and they've shown no signs of fraying or losing their shape. (I would, however, recommend skipping the dryer for extra longevity. Line-drying or air-drying them on a towel rack is fine.)
Most crucially, their combination of stretchy, lie-flat lace and full posterior coverage confers a critical advantage: no panty lines. I'd long believed that banishing the quadra-buttocked silhouette meant enduring a thin strip of fabric crawling up my rear. So I was amazed at how the Natori briefs—which couldn't be more un-thong-like—virtually disappeared under my clothes. That's because the edges of the underwear are whisper thin, so there's barely any ripple for my pants to skim. I can wear them with jeans, jersey knits, and even leggings without signaling my underwear preferences to passersby. It's marvelously freeing.
This article was edited by Catherine Kast and Jason Chen.