ToughBuilt Quickset Work Bench Review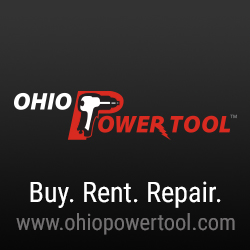 ToughBuilt Quickset Work Bench – Model TB-WB700

Manufacturer:
ToughBuilt

Model number:
Model TB-WB700

Price:
$99.00

Weight:
32.19
Some job sites tend to get disorganized and it can happen fast. Working neatly and efficiently is something the TBB crew prides itself on. Our job sites typically stay well organized. There are plenty of solutions on the market that help with our proficiency. We recently teamed up with ToughBuilt to even better our job site efficiency with the use of their Quickset Work Bench
Toughbuilt creates innovative products that help the end user to build faster, build stronger, and work smarter. ToughBuilt listens to professionals who work on the job sites day in and day out. They take their feedback and create tools that will help save time, money, and unnecessary hassle.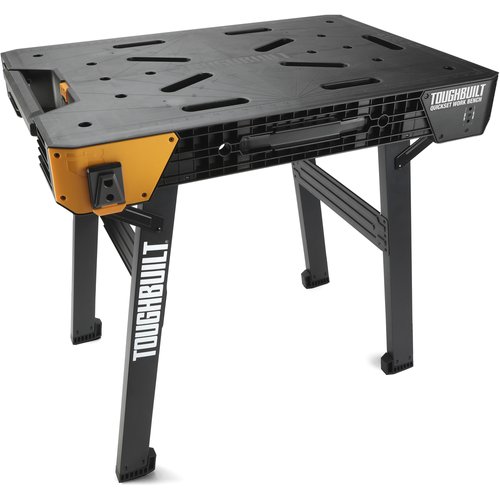 QuickSet Work Bench Specifications
Instant set up and fold away handle mechanism
Folds up to 2'x3′
Flush-Fit carry handle
Compatible with ClipTech Pouches
Multiple Clamping Points
Smart Surface Measuring Markings
Heavy-Duty Legs
31″ Work Height
2'x3′ Work Surface
ToughBuilt |  Work Load Capacity
The ToughBuilt Quickset Work Bench is capable of holding 1,000Lbs. While on our job site we did not put nearly that amount of weight on our table but it's good to know that our tools and stock do not stand the risk of dropping due to cheap flimsy metal legs.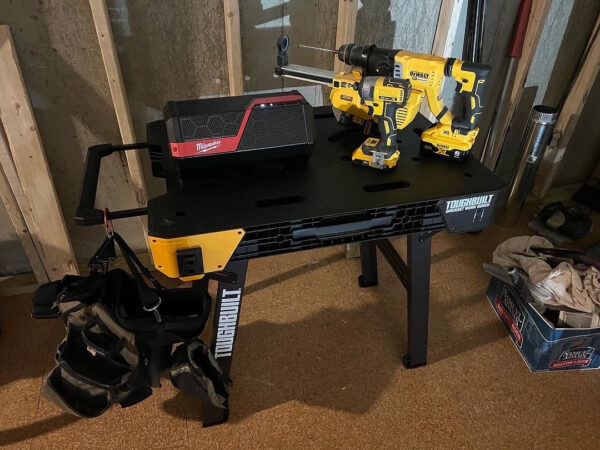 The Quickset Work Bench came in handy while assembling an earth auger. The table was big enough to hold all the items needed for assembly including holes that allowed the auger to stand straight up and spin freely.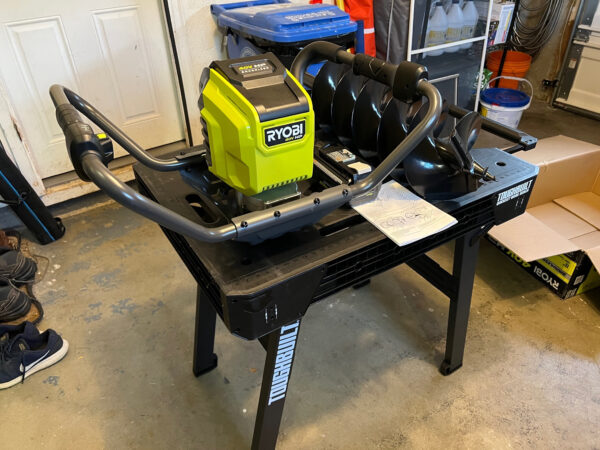 Rapid Deployment | Under 3 Seconds
Simply push button 1 which releases the legs and pulls up the handle.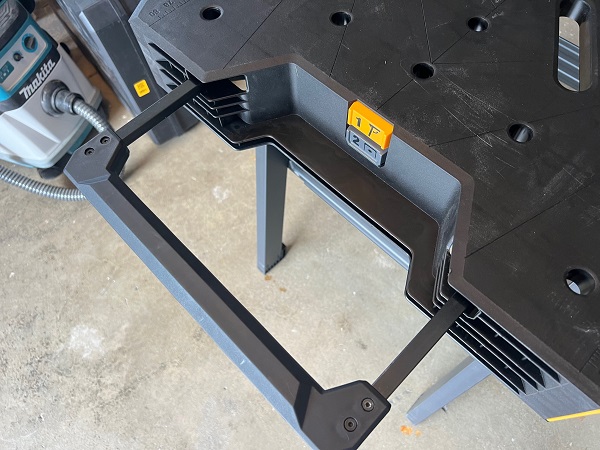 Collapsible Handle
The Quickset work table handle has the ability to move in or out of the way which lessens the footprint and eliminates bumping into it as you walk around. The collapsible handle with the touch of button 2 pushes in and recesses in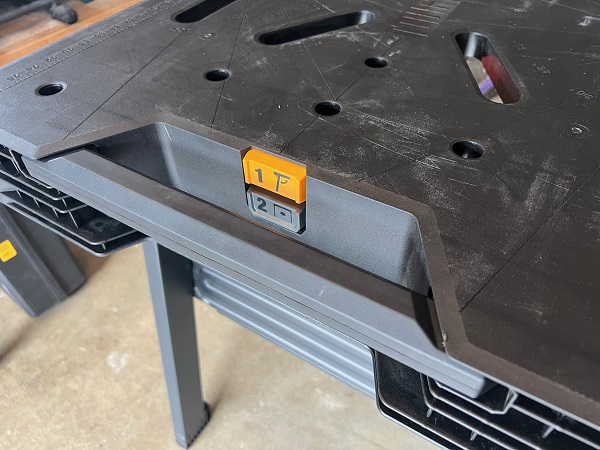 ToughBuilt ClipTech Feature
When removed from your belt, the variety of ClipTech pouches from ToughBuilt can be connected to the table. Immediately clip pouches and tools on and off to organize and streamline every task. By letting the pouch dangle while using the table, you can prevent fasteners, tiny tools, and tool bits from falling out or becoming lost.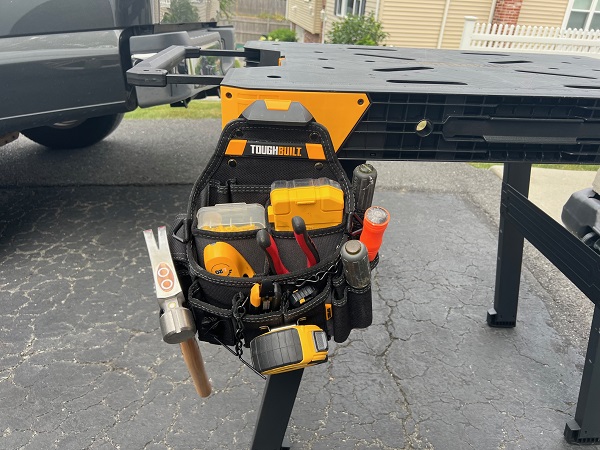 Quickset Work Bench Clamping Points
During a recent custom benchtop build for a mudroom, we used the Quickset Work Bench while biscuit joining two pieces of pine. The clamping slots were wide enough to slide the clamps into the slots without having to take one of the clamp's heads off.  There are 4 slots available to use for clamping.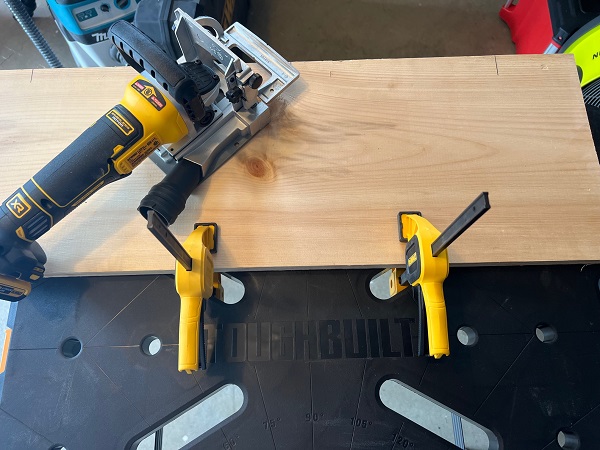 ToughBuilt TOUGH | Final Thoughts
The ToughBuilt Quickset Work Bench is $20 cheaper than its competitor. It is beefy, has a collapsible handle, and gives you the ability to keep your workbench organized while you work with the ClipTech system.  ToughBuilt takes pride in offering innovative, high-quality products at fair costs that reach almost everyone. This workbench is sold at Lowes for $99.00 and is TBB recommended!
Quickset Work Bench
$99.00
About the author
Disclosure
Product reviews on this site contain our opinion of a product or service. We will always strive for objectivity and transparency in our reviews. Our goal is to provide readers with honest, objective information based on our own experiences. We never have and never will accept payment in exchange for a positive review. Many of the products that we review are provided to us for free by a manufacturer or retailer. In some cases, we also have advertising or affiliate relationships with manufacturers and retailers of products and services we review. For additional information please visit our additional disclosure policies.